The old shop of the super public bath

Outline

"Soshigaya hot spring 21" is a super public bath in the residence town of Setagaya in Tokyo. It is in Soshigaya- ookura station North Exit shopping street of Odakyu line. It is a public bath, but it is equipped with the various facilities. We had a feeling like a place to play rather than relaxing in the bath.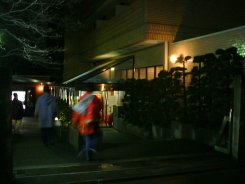 We visited there at night. The hot spring is the first floor of the condominiums.



Location

3-36-21, Soshigaya, Setagaya-ku, Tokyo
TEL:03-3438-2611

Visit day : February, 1998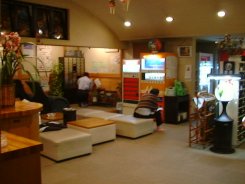 Impression

We bought a bathing ticket with the ticket machine. There is a counter in the building. It seemed to be busy, and a master accepted guests. It seems to be an evening rush time zone.

There are a bath of the hot spring and a bath of the regular hot water. A bathtub is small. Hot spring water is brown. There is an electric bath, too. I felt an electric shock a little when I soaked a fingertip in the bathtub. Furthermore, the bath of the medicine and a small pool and a sauna are available at the addition charge. There was crowded, so I am disappointed at my not relaxing. It is the hot spring which is available at the charge of the public bath.

Business
Business hours
14:00 - 24:00
Closure day
the 2nd, the 4th Friday
Charge
385 yen
Add 900yen for sauna and bath towel

Access

It is difficult for us to explain the way to there. We suggest to look the detailed road map. First, you go to Soshigaya-ookura station, North Exit. You go to toward to the north in the shopping street and turn left at the second alley. There is a parking lot. (It is charged.) You can get the discount coin of the parking charge at reception desk.