A Public bath at the source of Kusatsu hot spring

Outline

Shirohata-no-yu is one of the free public bath at Kusatsu hot spring. This bathroom is introduced by the tourist guidebook of Kusatsu hot spring. It is the biggest in the free public baths. It is rebuilt in 1994, and the building is new. It is near from Yubatake(the fields where sinter is collected) which is the symbol of Kusatsu.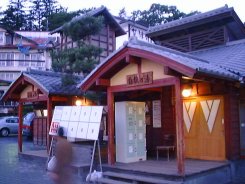 Location

Kusatsu-cho, Azuma-gun, Gunma-ken
TEL : 0279-88-3642 (Kusatsu tourist society)

Visit day: June, 1998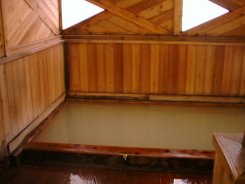 Impression

There are two bathtubs. The water is a source itself, and very hot. There is no smell in the hot water and the color is white. When I tried to lick it, it had a very sour taste. (PH is 2. This is strong acidity.)
This public bath is crowded. You had better be careful of the drunken man at night.



The origin of Shirohata-no-yu

It is said that this hot spring was discovered when Minamoto Yoritomo (a famous general) hunts at the foot of Mt Asama on August 3, 1193. This public bath was named with "Shirohata- no-yu (the white flag hot spring)" in the 30th year of Meiji. This name is based on the white flag of Yoritomo.

Business
Business hours
5:00 - 23:00
* 8:00 isn't available in the morning by cleaning.
Closure day
Open throughout the year
Charge
Free

Access

Get off Kanetsu expressway Shibukawa IC, and go to the Nakanojo via Route 17 and 353. Go to Kusatsu from Nakanojo via Rote 145 and 292. Shirohata-no-yu faces Yubatake in the center of Kusatsu.
The parking lot of Yubatake can be used.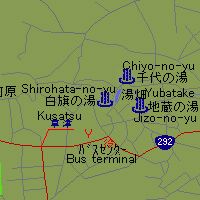 Yubatake toll parking lot
Business hours: 8:30 - 23:00 Charge: 550 yen (2 hours)