The restaurant with spa in Shirahone hot spring

Outline

Shirahone hot spring is a famous hot spring since the Edo Period. Shirahone means white bone. The name origins in a bathtub's turning white by the lime of the hot water. Awa-no-yu on the upper reach of the river is famous.
There is a public open-air bath here, too.

At this time, we went to Baiko-an as the restaurant with spa. Baoko-an is near the tourist information office and the public open-air bath.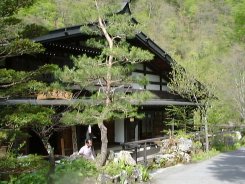 Location

Shirahone-onsen, Azumi- mura, Minami-azumi-gun, Nagano-ken
TEL:0263-93-2917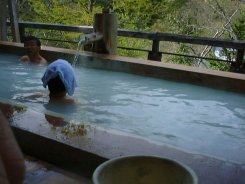 Impression

We arrived at the Shirahone before 9 a.m. Awa-no- yu and the public open-air bath weren't available since they open at 10:00. So, we went to Baiko-an which has been opened early in the morning.

The bathtub is small, but the view is very good because we can see Yukawa's flow. The hot water was white, and very muddy. Therefore, I couldn't see deep place in the bathtub. There is no smell of the hot water so much. I drunk the hot water and thought it was taste of the hot spring egg.

This charge is high. But, you can enjoy the hot spring at Baiko-an in Shirahone in case that the public open-air bath isn't available.

Business
| | |
| --- | --- |
| Business hours | 8 : 00-closing time is unconfirmed. |
| Closure day | open throughout the year |
| Charge | 800 yen |

Access

Go the prefectural road Shirahone hot spring line at Yukawa-watashi via Route 158. Then, go to the end of it. Or, use a Kamikochi- Norikura super road through a forest.

The parking lot is near the crossing of the road through a forest and the prefectural road.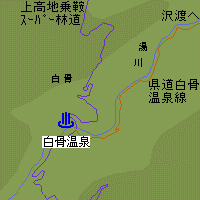 Visit day : May, 1998