A hidden hot spring of Okushiobara known in the black hot spring

Outline

There is Motoyu hot spring in the place to get off a valley on the north side from the Nichien toll road which connects Kinugawa and Shiobara. This hot spring became popularity recently as a hidden hot spring which is close to Tokyo.

There are three hot spring Japanese inns. "Gensen-kan" is famous. But, we went to the "Ooide-kan" which is in the higher place than "Gensen-kan". We must take a roundabout way because Ooide-kan is at the high place, though it is near from Gensen-kan.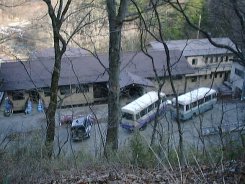 The history of the Shiobara Motoyu hot spring

The history of Motoyu hot spring was old, and it is said that it was discovered 1100 years ago by the legend. It has been prospered as Shiobara hot spring cradle. A big earthquake happened in February, 1659, and 85 and houses were completely destroyed. The prosperity of 1000 years was finished. The remaining houses moved to another place, and Motoyu hot spring became uninhabited at that time.

The hot spring shrine and a stone garden lantern were moved to Arayu Hot Spring from Motoyu hot spring in 1713. There are only three Japanese inns nowadays, and many people come to see the rustic sight.


Shiobara hot spring festival is held in September every year for appreciation of hot spring. This sacred hot water is drawn and offered in 11 altars of Shiobara hot spring. This is the event for the hot spring town.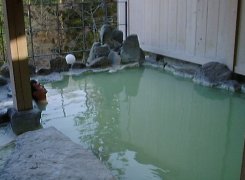 Impression

Master's simplicity is a charm. The building seems to be a hotel, but the atmosphere is Japanese hot spring resort. There are seven bathtubs, and hot water is led from the various sources.

It is a "black hot spring (Sumi-no-yu)" to be especially rare. It is said that there is even whole country only here. It seems that Chinese ink was melted, and hot water is black.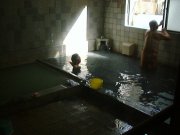 The color of the water except for the black hot spring is a little white and muddy. The water has various colors and it is called as the "hot water of five colors".

There are open-air baths, bathrooms of mixed bathing and a bathroom for the women. Men use the bathroom of mixed bathing. There are two entrances in the black hot spring, but the bathroom is mixed bathing.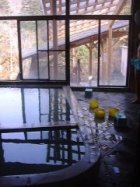 By the atmosphere for visitor to a hot spring resort, a rustic feeling. A black hot spring is interesting. The view of the open-air bath is good.
We hope that this hot spring do not become so famous and remain as hidden hot spring.



Location
102, Yumoto Shiobara, Shiobara-cho, Nasu-gun, Tochigi-ken
TEL:0287-32-2438



Business
Business hours
It isn't clear.
The time of the bathing may not be decided.
Closure day
open throughout the year
Charge
600 yen

Access

Get off at Nasu IC of Tohoku expressway, and go to Route 400. Pass Shiobara's town, and go into the Nichien toll road. Turn right at the front of Arayu Hot Spring, and go to Motoyu hot spring. Go up the urgent slope from Motoyu hot spring in Shiobara direction, and turn left. There is Ooide-kan at the end of the way.




Visit day: March, 1998