The day's trip hot spring of the relaxation in a Shima hot spring

Outline

The Shima hot spring is famous for the gorgeous hotel. However, there is also a casual day's trip hot spring. Seiryu-no-yu is only one day's trip hot spring of Shima hot spring, and is situated in the entrance of a Shima hot spring town. It is in the opposite shore of a Shima river from a road. You have to cross a narrow bridge.

It is the building of the Japanese style which matched scenery. Since it is the new building built in 1996, it is clean and comfortable. The bathroom for males is in a river side, and it for ladies is in a mountain side. There are a main bath and an open-air bath and a cascade bath is in an open-air bath.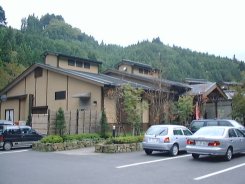 Location

Gunma prefecture Azuma County Nakanojo-cho Shima 3830-1
TEL:0279-64-2610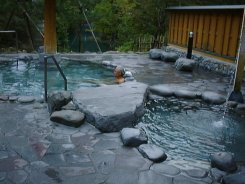 Impression

Hot water is clear and smooth. This is water of a Shima hot spring. The open-air bath for males is situated in the shore of a Shima river, and its surrounding scenery is beautiful. Hot water is a moderate temperature. While being there, you can enjoy the color of a mountain, and the sound of a river. Ladies' bath is surrounded by the wood and you can do invigoration by nature. Since the window of the bathroom is large, it is pleasant.

A rest room is a large Japanese-style room. Since karaoke is not placed, it is quiet. Quietness is likable. A meal is requested to a reception desk. A sushi store or a buckwheat- noodles store carries out a catering service. The whole impression is a quiet atmosphere and we were pleased. We recommend you.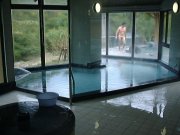 Business
Business hours
10:00 - 21:00 (Apr. to Oct.)
10:00 - 20:00 (Nov. to Mar.)
Closure day
The 4th Wednesday
Dec. 27-29
Charge
500 yen
(2 hours)
800 yen
(4 hours)
1500 yen
(one day)

Access

Get down from Shibukawa Ikaho IC of the Kan-etsu expressway, and go to a Shima hot spring via the national highway of No. 17, and the national highway of No. 353. Turn the Shima large bridge of the entrance of a Shima hot spring to the right. Progress about 300m and turn left.
A car parking space is large.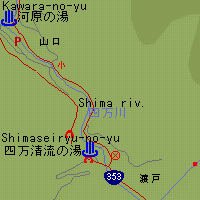 Visit Day: 1998 November