Place of the origin of a Shima hot spring

Outline

Gomuso-no-yu is situated in the Hinatami hot spring of the upstream of a Shima hot spring. It is said here that it is the place where the Shima hot spring originated. Here is the Hinatami yakusido (small shrine) of an important cultural property.

According to the tradition, when the Sadamitsu Hyuga-no-kami of Yorimitsu Minamoto's vassal bivouacked here, he looked at a child's dream. The child taught him the sacredness hot spring which has an effect in many illnesses. It is said that this is starting of a Shima hot spring. The name of Gomuso-no-yu is connected with his dream.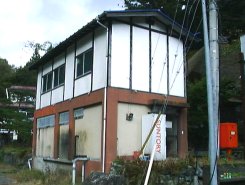 Location

Gunma prefecture Azuma- gun Nakanojo-cho Shima
TEL:0279-64-2321
(Shima onsen association)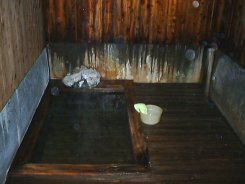 Impression

Gomuso-no-yu is a small building made from concrete. The bathroom is small at 12 square meters. A bathtab and a floor are wooden. Since it's window is small, it is dark in the bathroom. However, as for me, it is glad that hot water is overflowing calmly from the bathtub in a quiet bathroom.

A bathtab is no vacancy in three persons. I was immediately soaked in hot water. The water is somewhat hot and is smooth. I shut the eye calmly and enjoyed hot water. The nature of the water of a hot spring is a calcium spring.

It is better to go there, after seeing the Hinatami yakusido. Although the view is not good, probably, you can enjoy hot water purely. Business hours are short even 3:00 p.m.

Visit Day: 1998 November

Business
Business hours
9:00-15:00
Closure day
Having no holiday
Charge
No charge
(Please donate cleaning cooperation money)

Access

Get down from Shibukawa Ikaho IC of the Kan-etsu expressway, and go to a terminal point via the national highway of No. 17, and the national highway of No. 353. There is no car parking space before Hinatami yakusido.
Use the public car parking space of a long distance for a while.