The symbol of Nasu hot springs area

Outline

Shika-no-yu is known as Nasu hot spring cradle. This has been used as hot spring resort from the old days. It is near the tourist point "Sessyo-seki" where volcanic gas appears in. The building of the hot spring crosses over the hot water river.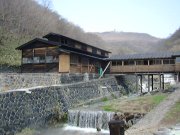 The element of the hot spring water is very thick, and makes white muddy, and it is strong acidity. It smells bad. The hot water temperature is 52 degrees, PH is 2.2 (strong acidity) by the hot spring analysis table.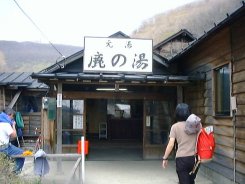 Impression

The building is a wooden building. Both a bathtub and a bathroom are wooden products.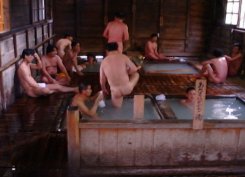 Because acidity is strong, a concrete building can't stand up to it.
A bathroom is divided into mixed bathing (Only men was taking a bath on the day) and the one for women. A bathtub is partitioned into four in mixed bathroom. It is partitioned into two with the bothroom for women.

Temperature of the hot water is respectively different. It is said that they are 41 degrees, 42 degrees, 44 degrees, 46 degrees around the watch from the bottom right of the photograph. Regular visitors measure time, and they are soaked in the hottest water. They measure time by using the sandglass. Then, they are soaked in hot water for three minutes . They get out of the bathtub, and cool a body for a while on the floor. I tried to soak, too. But, I could not soak bacause It was too hot.

A staff member sometimes checks the hot water temperature with the electronic thermometer. This is the real hot spring resort.

Location

51, Yumoto, Nasu-machi, Nasu-gun, Tochigi-ken
TEL:0287-76-3098



Business
Business hours
8:00 - 17:00
It may change by the season.
Closure day open
throughout the year
Charge
300 yen

Bathing and rest, 1 day 1500 yen.

Access

Get off at Nasu IC of Tohoku expressway, and go to Nasu highland via prefectural road No.17. About 13km.
Shika-no-yu is on the opposition side of the "Sessyo-seki".
A parking lot is large (about 30 units)




Visit day: April, 1998