The open-air bath of the good view of the shore of a river

Outline

Iwa-no-yu is an open-air bath in the shore of the Hoki river which flows the main part of the Shiobara hot spring. It is in the other shore of a hot spring town. We go there through the suspention bridge for people. The shore of Hoki river is the sidewalk. Probably, you will notice a suspention bridge and reed screens, when you walk there. Iwa-no-yu is enclosed by reed screens.

Iwa-no-yu has two bathtabs. Both are mixed bathing. Pay a charge to the charge box in a suspention bridge.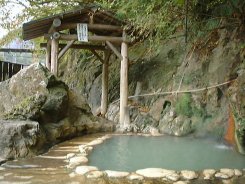 Location

Tochigi prefecture Nasu- Shiobara-cho Fukuwata
TEL:0287-32-2512
(The Shiobara hot spring sight-seeing association)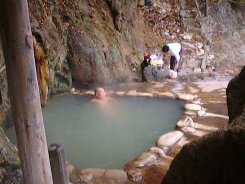 Impression

Hiding in a reed screen, visitors remove dress. Since they are seen from the suspention bridge, ladies may seldom enter daytime. Since Iwa-no-yu is seen from the opposite shore, it has many visitors.

The water is a little cloudy and hot. The nature of the water of a hot spring is a sodium-chloride spring. Being soaked in a hot spring, seeing the flow of a river makes me pleasant. When it passes along the Shiobara hot spring, you had better drop in at this hot spring.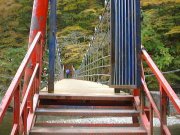 a suspention-bridge of Hoki river

Business
Business hours
7:00-21:00
Closure day
Having no holiday
Charge
100 yen
A charge box is at the suspention bridge.

Access

Get down from Nasu- shiobara IC of a Tohoku expressway, go the national highway No. 400 to west, and go to the Shiobara hot-spring village. It is near the suspention bridge of the opposite shore of a Fukuwata hot spring.
Although it is quite far, use the car parking space of the visitor center.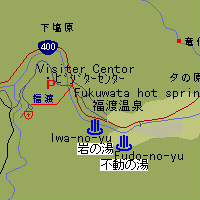 Visit Day: 1998 October