Old popular open-air bath

Outline

Although the common open-air bath in the Shiobara hot-spring resort is mostly situated in the shore of Hoki river, Fudo-no-yu has left a few from the shore. You need to go across the small suspention bridge of a Fukuwata hot spring, and need to walk along a riverside path. It is a distance good to a walk. The open-air bath is in about 100m from the shore.

A undressing hut is in the side of the mountain stream with many big rocks. A bathtab is only one mixed bathing here. Hot water is also overflowing in plenty. There is no light in night.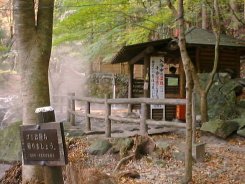 Location

Tochigi prefecture Nasu- Shiobara-cho Fukuwata
TEL:0287-32-2512
(The Shiobara hot spring sight-seeing association)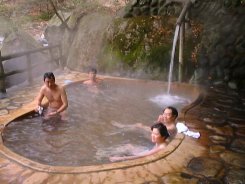 Impression

Since the open-air bath is popular, although it is early in the morning, it is coming many people. A lady also covers the body with a towel and is soaking in hot water. Since the iron ingredient has melted into water, the bathtab has the rust color. The nature of the water of a hot spring is calcium and a sodium- chloride spring. Hot spring water which is flowing is hot.

The circumference is woods and it is a mountain stream in front of the open-air bath. It is ideal environment.
Although it is a wonderful open-air bath, it is regrettable that it is crowded too much.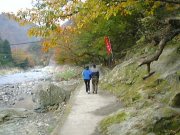 Visit Day: 1998 October

Business
Business hours
7:00-21:00
Closure day
Having no holiday
Charge
100 yen
A charge box is in the suspention bridge.

Access

Get down from Nasu- shiobara IC of a northeast expressway, go the national highway of No. 400 to west, and go to the Shiobara hot spring town. It is in the opposite shore of a Fukuwata hot spring. He goes across a suspention bridge and walk along a riverbank in the direction of a lower stream of a river.
Although it is quite far, use the car parking space of the visitor center.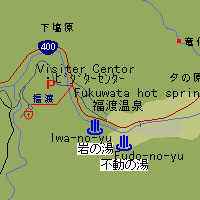 The panorama photograph of Fudo-no-yu(54kB)