Hot spring which sinks in the sea

Outline

The Seseki hot spring is a famous open-air bath in the east side of the Shiretoko peninsula. The hot spring sprang from the crevice between the rocks of the seashore, and it became the natural rock bath. Open-air baths become the bottom of the water surface at the time of a high tide.

Mr. Hamasawa (Rausu tangle store owner) owns this hot spring. Hot water is pumped out of the fountainhead with hose, and it is moving to the bathtab of the larger one now. The visitor is to use the bathtab of the larger one.

There is no undressing place. You will remove dress on the seashore. Ladies will need a swimming suit.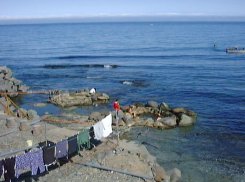 The left is the fountainhead and the right is a bathtab.



Location

Hokkaido Menashi-gun Rausu-cho Seseki
TEL:01538-7-2111
(The Rausu town office )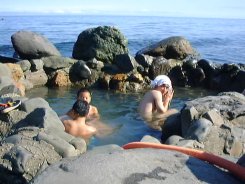 Impression

I greeted Mr. Hamasawa who was looking at the sea leisurely in the tangle store. He advised me. "Since tide was in, you had better enter early." I remove dress in a hurry and go there. The temperature of water is a little tepid. The rock seaweed has floated in hot water.

Since it is fine weather, the view of the wonderful sea can be enjoyed. The Kunashiri island on the opposite shore is visible. It is about 40km to the opposite shore, and it is felt for near.

If tide is in, waves will go into the bathtab. The open-air bath sinks in the sea in slight time.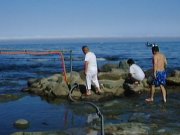 Since it is a high tide, he tidies up the hose of the fountainhead. The left is Mr. Hamasawa.

Business
Business hours
It is not decided.
It cannot be used at the time of a high tide.
Closure day
Having no holiday
It is impossible to use in winter cause of coldness.
Charge
No charge
Please donate the cooperation money for cleaning.

Access

Go to Shari via the national highway No. 244 from Abashiri. Go to the Rausu-cho across the Shiretoko peak via the national highway No. 334 from Shari. Go the prefectural road No. 87 (the Shiretoko park road) to north from the Rausu-cho. About 23km from Rausu.
The car parking space of the road side can be used.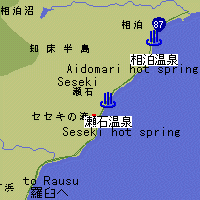 Visit Day: 1998 August