A city hot spring for rich
people

Outline

The hot spring which Seta near Futago-tamagawa is Sanga-no-yu. It is the hot spring which the athletics club made. It bowled in 1997 and the hot spring sprang. Since it is the hot spring of a big city, it is a gorgeous atmosphere.

A reception desk seems to be a hotel. The charge contains the charge of a towel and a bathrobe. There are an ordinary main bath and an open-air bath, and there is a warm-water pool further.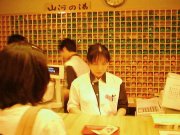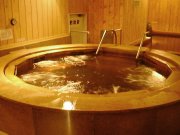 Location

4-15-30, Seta, Setagaya division, Tokyo
TEL:03-3707-8228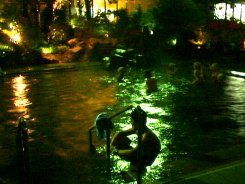 Impression

You have to go into a main bath naked. In the pool, you need to have a swimming suit on. We have a swimming suit on, before going into a main bath, and we go to the pool. We visited in the evening. Couples are enjoying themselveses to the pool. There is a big-screen TV like a screen in the pool side. The night game of baseball is projecting.

Water of a main bath is a coffee color which is often in Tokyo. This color is quite deep. My towel is also dyed brown. The nature of the water of a hot spring is a sodium chloride hot spring. Since it was gloomy in the bathroom, I became a little dark feeling.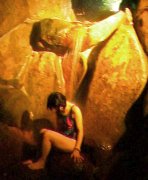 Cascade bath

Visit Day: 1998 July

The charge is quite high. The rest space also has only mere benches. In order to rest for a long time, you need to use a meal place. I thought that I was urban sweethearts' hot spring for a date.



Business
business hours
10:00 - 23:00
Sunday and a national holiday are from 9:00.
Closure day
Having no holiday
Charge
2300 yen
with a face towel, a bath towel, and a bathrobe
A swimming suit can be rented.

Access

Go in the direction of Futago-tamagawa from the Seta crossing at the national highway 246. It is in the building of a sport gym. A car parking space cannot be used.
There is a pick-up bus every 10 minutes from Tamagawa Takashimaya. You shall use the parking space of Takashimaya SC.