The drop in hot spring to represent Kusatsu

Outline

You can taste various baths at a time as a hot spring establishment to represent Kusatsu hot spring resort. There are A big bathroom, a sauna, a water bath, an open-air bath, awase-yu (old type of wodden bath- tubs), box sauna (a sauna for 1 person) and cascade bath.

Hot water of awase-yu isn't thinned with the water in, and cooled naturally. Here is only mixed bathing.
They have a special time for only women.
(10:30-12:00,
14:00-16:00
and 18:30-19:30)

There is very crowded with the skiing guest in winter season. You can borrow the towl and yukata (lightweight kimono) there.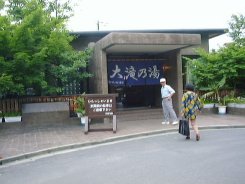 Location

596-13, Kusatsu, Kusatsu-machi, Azuma-gun, Gunma-ken
TEL:0279-88-2600

Visit day : June, 1998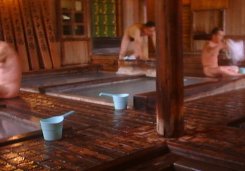 Awase-yu



Impression

Awase-yu is a set of bathtubs which consists of five kinds of water temperature. Hot water flows from the hottest place in order, and tries to become tepid gradually. The hottest water temperature is 46 degrees from the source. Most people can't be soaked in the hottest bath. Hot water is clear. When it becomes tepid, hot water becomes muddy and white.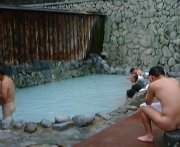 There is two size in the open-air bath.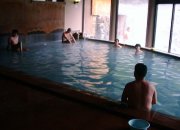 A big bathroom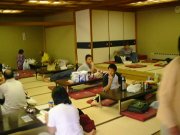 An underground lounge

Business
Business hours
9:00 - 22:00
(Jun. - Sep.)

9:00 - 21:00
( Oct. - May)
Enter before one of the closing time.
Closure day
open throughout the year
It is closed during December 1 from 15 for maintenance.
Charge
800 yen

Access

Get off Kanetsu expressway Shibukawa IC. Pass Route 17 and Route 353. You will arrive at Nakanojo.
Pass Route 145 from Nakanojo. You will reach to Nagano Hara. Pass Route 292 (Kusatsu way) from Nagano Hara. You will arrive at Kusatsu.
Go into Ootaki-no-yu from Kusatsu tropical bloc side.
There is a parking lot. But, it is crowded.