Hidden hot spring where is well-known as hot spirng in the creek.

Outline

Oomaru hot spring is located at the end of Nasu hot spring village. Here has been hot spring resort for a long time. The house has been rebuilt and there is an atmosphere of the high- class Japanese inn now. Here is one of hot springs which is designated by association for keeping the hidden hot spirng. However, it has developed recently.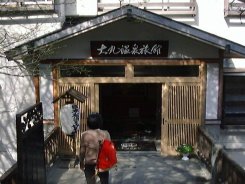 Location

269 Yumoto, Nasu-machi, Nasu-gun, Tochigi-ken
TEL:0287-76-3050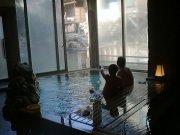 There is hot spring river next to inside bath.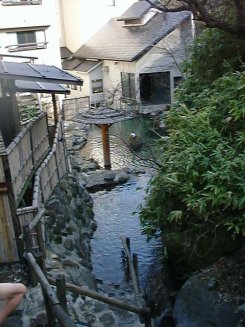 The open-air bath is made by dam of the brook.



Impression

There is a brook of the hot water along the building. The brook is dammed up, and they are making it an open-air bath.
There is depth to the breast at the deepest place. There are sand and pebble at the bottom of bathtub, and it is the natural bottom of a river.

Open-air baths are three steps. There are two mixed bathing at the lower reaches of the river. The bath for the women is at the upper reaches . Hot water is clear without muddiness. An open-air bath is a little tepid.

The reception of the Japanese inn was polite, and we had good impression.


Business
Business hours
10:30 - 15:30
Closure day
open throughout the year
Charge
600 yen
accomodation charge is about 13,000 yen.

Access

Get off at Nasu IC of Tohoku expressway, and go to prefectural road No.17 (Nasu highland road). Pass the toll road volcano highway. Turn right if you arrive at the bus stop of Oomaru hot spring near the drive-in. You will arrive at Oomaru hot spring soon. Even if you walk from the bus stop, it will take about five minutes.
An outside visitor will use the observatory parking lot (about 30 units) .




Visit day: April, 1998