A bright clean town- ownership hot spring

Outline

The Kawazu-cho is the south in Higashi-izu, and near Shimoda. It is far from Tokyo. The Mine hot spring with Odoriko- Onsen- Kaikan is a part of Kawazu hot spring, and is a hot spring in the lower stream of the Kawazu river. The Kawazu-cho is the stage of Yasunari Kawabata's novel "The dancer in Izu."

Odoriko means a dancer. Odoriko-Onsen-Kaikan is a big building of the Japanese style, and is a clean atmosphere. The stained glass of Odoriko is on the front wall. The kinds of bath are a cascade bath, a bubble bath, a sauna, and an open-air bath.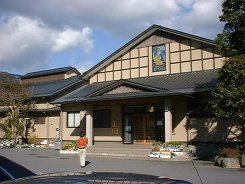 Location

Shizuoka prefecture Kamo Kawazu-cho Mine 457-1
TEL:0558-32-2626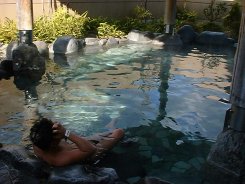 Impression

Small wood of a mandarin orange was near the open-air bath. The wood is appropriate for Izu. Water of the hot spring is transparent and is a little hot. Although a view is not so good, since a bathtub is exactly good width, I can relax. Since the bathroom has big glass windows in the two directions, it is bright in the room. The temperature of nature of the water of a hot spring of a sodium chloride hot spring and the fountainhead is 61.6 centigrades.

A rest room is large and clean. It is O.K. to carry in his own food. We thought that we wanted to visit cheerfully again. We recommend you.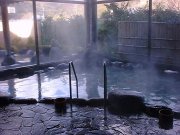 Business
Business hours
10:00-21:00
Closure day
Tuesday
It is the next day at the time of a public holiday.
Charge
1000 yen
(3 hours)
Excess 1 hour
200 yen

Access

Get down by Odawara IC of the Odawara Atsugi expressway, and go to south via the national highway No. 135. Turn to the right in the Kawazu-cho according to the Amagi peak sign. Progress about 2km and find Odoriko- Onsen- Kaikan on right- hand side.
A car parking space is large.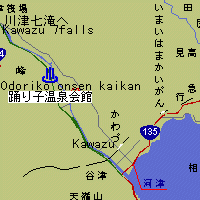 Visit Day: 1999 January