Good View hot spring in the Nagano basin

Outline

Obuse is the town which is called small Kyoto of Shinshu and prospered very much in the Edo period. There is a Hokusai hall which exhibited the festival stall with Hokusai Katsushika's picture's. The old rows of houses like as Kurashiki are left behind.

Anakannon-no-yu is a hot spring in the Obuse western side and heights. Bathrooms are in the first floor and a rest room is in the second floor. The Kannon of the origin of the name of the hot spring is a statue of Buddha deified in the cave in the mountain side of this hill. It is in the middle of the hill to a hot spring from a car parking space.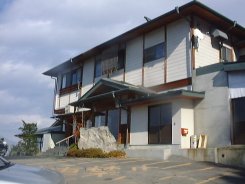 Location

Nagano prefecture Kamitakai Obuse-cho Karita Kannon-shita 194-1
TEL:026-247-2525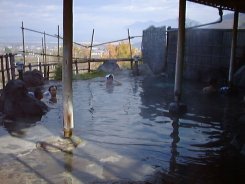 Impression

The view from the open-air bath is wonderful. Since the hot spring is situated in a hill, the Nagano basin can be overlooked. High mountains, such as Mt. Myoko, appear in the distance.

Water of the open-air bath is a little tepid, and the color is a little white. The main bath is a bubble bath and the water is quite white.
Although it is the same fountainhead as the open-air bath, seemingly, water will become cloudy with air. It is said that hot water is transparent in the morning.

Business was started here in 1991. It is crowded with local people.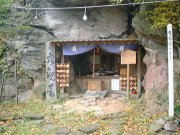 Ana-Kannon

Business
Business hours
10:00-22:00
(From May to September)
10:00-21:00
(From October to April)
Closure day
Having no holiday
Charge
500 yen

Access

Get down from Suzaka- Nagano-Higashi IC of the Nagano expressway, and go the national highway No. 403 north. Turn the Kamimachi crossing of the Obuse street to the right, and pass along the prefectural road No. 66. It is on a hill.
A car parking space is large.
It is in a hill top and the bottom.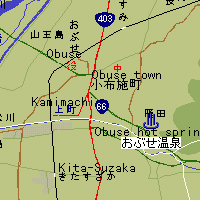 Visit Day: 1998 October

The panorama of Obasute SA(43KB) of the Nagano expressway at which we dropped in.