Hot spring on the hill in the Misato-mura

Outline

The Satomi-mura in the boundary of the Ibaragi prefecture and the Fukushima prefecture is low mountains and woods. "Nukumori-no-yu" is on a hill. Satogawa river is flowing the center of the village and the river can be looked down from the hill.

Nukumori-no-yu is half-public management. the building was built in 1995 and still new. The character of water is a simple sulfur spring and the temperature of the fountainhead is 34.0 centigrades. Water of the hot spring is heated. There are an open-air bath, a main bath, a cascade bath, and a lying bath.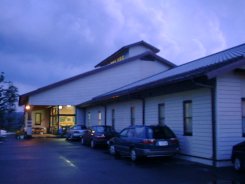 Location

Ibaragi prefecture Kuji Satomi-mura Oonaka 2076-6
TEL:0294-82-3366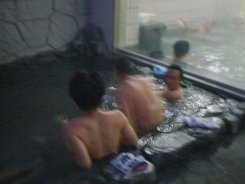 Impression

The open-air bath is enclosed with the wall of a building. Although a window is on a wall, from the open-air bath, only the sky is visible. It is regrettable that scenery is not seen although it is on the hill. (The camera was out of condition and the photo became not good.)

The water does not have a smell and is clear. It is a little tepid. Since there were many local people, it was considerably crowded. There is a Japanesque big rest room and they can eat buckwheat noodles etc. there.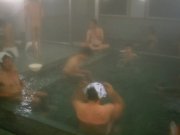 Visit Day: 1998 October

Business
Business hours
10:00-20:00
Registration is close at 19:30.
Closure day
The 2nd, the 4th Thursday
It is the next day at the time of a public holiday.
Dec. 28 to Jan. 1
Charge
1000 yen (holiday)
700 yen (weekday)
500 yen (17:00 or later)

Access

Get down by Naka IC of the Joban expressway, and go the national highway No. 349 to north. Progress about 40km and go into the Satomi-mura. Turn to the right according to the signboard of the hot spring. Reach a hill.
A car parking space is large.