A hidden hot spring of Kurobe gorge and the source of Unazuki

Outline

Kuronagi hot spring is in Kurobe valley of Toyama Ken which is the unexplored regions. We can't go to Kuronagi hot spring by car. We go to there by truck train of Kurobe Kyouku Tetsudo Line. It is closed in winter because a railroad doesn't move. We can go to there in the period when it doesn't snow.

Kuronagi hot spring is the source of Unazuki hot spring. All the hot water of Unazuki is brought from Kuronagi hot spring. The hot springs of the high temperature appear at every place of the river bank in the River.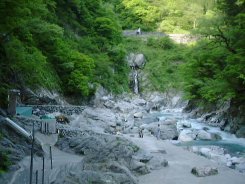 There is an open-air bath on the left of the river bank.



Location

Kuronagi, Unazuki-machi, Toyama ken
TEL : 0765-62-1820 (Kuronagi hot spring inn)

contact place in Unazuki TEL:0765-62-1802



Visit day : May, 1998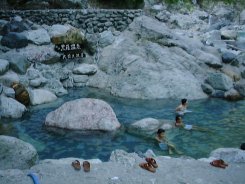 Impression

There is an open-air bath at a distance of about 100m from Kuronagi hot spring Onsen Ryokan (Japanese inn). It is mixed bathing. A bathtub is wide, and you can enjoy the river sound of the rapid stream and scene of the Kurove valley.

The hot spring is colorless, and has faint smell of sulfur. As the water is tepid, we can take a long bath. The source is high temperature. It is adjusted to be suitable temperature to take a bath.

The large tents for dressing room for men and women respectively are at the open-air bath's side. A woman may shrink back to take a bath because it is an open atmosphere. The special hours for women (only hotel guest) is set up.

People except hotel guest pay a charge for taking a bath at Onsen Ryokan (Japanese inn). You can take the inside bath (of course, this is a hot spring, too). You can wash with soap in the inseide bath.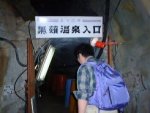 A hot spring entrance inside the tunnel

Business
Business hours
From the daybreak to at 21:00
Closure day
open throughout the year.
However, these is closed from November to April because truck train is suspended.
Charge
500 yen

Access

You get off in the third station, Kuronagi station from Unazuki station of Kurobe Kyouku Tetsudo Line. You go into the tunnel on foot along a rail for the second Kuronagi power plant to branch off from Kuronagi station.

There is a byroad to Kuronagi hot spring when you go about 100m through the tunnel. You reach Kuronagi Onsen Ryokan (Japanese inn) when you walk in the byroad for about five minutes and leave a tunnel.

You can park your car in the parking lot in front of Unazuki station.
Charge : 900 yen/day