The famous natural open-air bath of Kurobe valley

Outline

Kanetsuri hot spring is famous for the natural open-air bath at the river bank of the Kurobe River. As for this hot spring, the hot water of the suitable temperature goes out of the river bank by the side for the nature.

There are two open-air baths there. One is in the center of the river bank. Other one is in the cave under the cliff. The tents for the change of clothes are prepared.

The name of Kanetsuri has its origin in the mountain which has the shape of the temple bell near here. Kanetsuri station of Kurobe Kyouku Tetsudo Line is famous for the "perpetual snow" remained in the opposite side of the Kurobe River.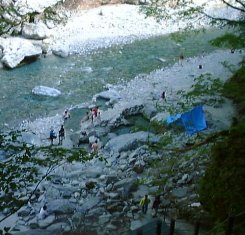 The center of the photograph is an open-air bath.



Location

Kanetsuri, Unazuki-cho, Shimoniikawa-gun, Toyama-ken
TEL : 0765-62-1103 (Kanetsuri hot spring inn)


Visit day : in May, 1998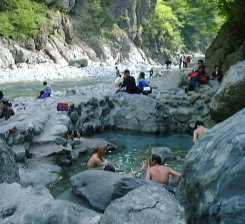 Impression

The water temprature of the open-air bath is just right. As the open-ari bath lookovers the gorge of Kurobe, you will take a leisurely bath. There is sand under the bathtub made from rock. A hot spring gushes out naturally from there. When I dug the sand, gas bubbles were rising from the bottom. Hot water is colorless, and there is little smell, too.

I felt that the water temprature of the cave bath was a little high. The cave bath is natural, too.
Here is the open-air bath with wonderful view. However, there are many, many visitors, and it is troublesome. The party of tourist for Kurobe gorge come to Kanetsuri hot spring, and they have planted themselves around the open-air bath. (do not take a bath, just taka a rest.)
Therefor, a woman could not get out of the rock bath .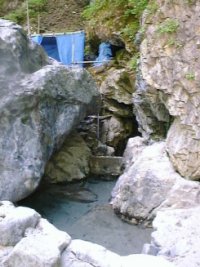 These is the cave bath at the inner and center in photo. There is a tent for undressing.

If there are not gallery like the party of tourist here, our evaluation will be * 5. But, we rank it low because we can not feel at relax in sucha circumstance.



Business
business hour
You can always take a bath
In case of making a day trip, until the last truck train
closure day
None

winter season (from Nov. to early Apr.) is not avilable.
Charge
free

Access

You take the truck train of Kurobe Kyouku Tetsudo Line for Kanetsuri hot spring.
You get off Kanetsuri station. You go to the upper reaches of Kurobe River about ten minutes and come down to the river bank.
You can park the car in the starting station of Unazuki hot spring.
(Parking fee 900 yen/day)