The source of Ikaho. an open-air bath with the history

Outline

Ikaho hot spring is composed in the Japanese poem of Manyoushu (an ancient collection of poems).
There is Ikaho hot spring halfway up Mt. Haruna in Gunma Prefecture. And, it is famous as a "hot water of the child". And, this is famous as a Kodakara- no-yu(hot spring where a child is given to a woman).

Ikaho hot spring open-air bath is being built in the source area of Ikaho hot spring. Hot water is being pulled from this source to the stone steps in the centra of hot spring town.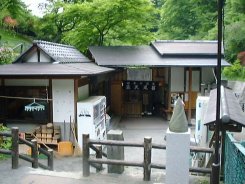 Location

581-1, Ko-yumoto, Ikaho, Ikaho-machi, Kita-gunma-gun, Gunma-ken
TEL:0297-72-2488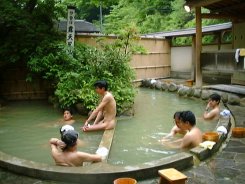 Impression

The bathtub is partitioned into two. The left is hot. The right is lukewarm. In the old days there was mixed sex bathing. Now, the wide bathtub is partitioned now in the center, and the inner parto of it is for woman.

Hot water is rich in iron and the brown with white muddy a little. The natural hot water is suitable temperature exactly.
the source: 45 centigrade the faucet: 43 centigrade

There is popularity very much, and many young couples come through the open-air bath, too. As it was the time of the fresh verdure, many insect was flying around the bathtub.
I was stabbed by the insect and became itchy.

Visit day : May, 1998

Business
business hours
9:00 -19:00
( Apr. - Sep.) 10:00 - 18:00
( Oct. - Mar.)
entrance was until 1 hour ago of the completion.
closure day
1st and 3rd Thursday
charge
300 yen

Access

You can arrives at Ikaho hot spring town when it gets off by Shibukawa Ikaho IC of Kanetsu automatic roadway and runs for about 20 minutes in accordance with the guidance of Ikaho hot spring. Climbing the slope of Ikaho hot spring town, and you can find an open-air bath in the furthest part.
There is a parking lot in the place where it went down a little from the open-air bath.
(15 units)