An open-air bath in Hirayu folk museum

Outline

Hirayu folk museum is an establishment in the central part of Hirayu. A wooden house with a steep rafter roof is the little folk materials museum. Hirayu-no-yu is an open-air bath in the folk museum. A hot spring is available in the admission fee of the folk museum.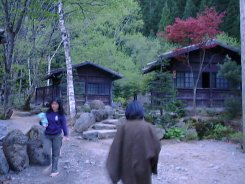 An undressing hut in the folk museum



Location

Hirayu hot spring Kamitakara-mura Gifu-ken
TEL : 0578-9-3578
(Hirayu folk museum)



Visit day : May, 1998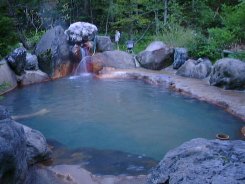 Impression

The hot spring is a feeling of the open-air bath in the wood. The color of the water of the hot spring is light yellowish brown, and there is little smell. The stone of around the violent outflow mouth of the hot water discolors in the rust color. We can enjoy a forest bath and hot spring bathing at the same time.



Tourist hint

The amount of hot water of Hirayu is very abundant, and there are about 40 sources in it. Hot spring eggs are boiled with which souvenir shop. The boiling water is the hot spring water, and overflows. The hot spring mamed Asiyuba(foot hot water place) is in the nearby hot spring town from the folk museum, and you can do treatment for the foot free there.

Business
Business hours
8:00-17:00

8:00-21:00
Saturday, Sunday, national holiday and each period of 7/25-8/25,10/5-25,12/25-1/5
Closure day
open throughout the year
Charge
500 yen
The admission fee of the folk museum is contained in the charge.

Access

Proceed about 50m in Abo pass direction from the terminal bus station of Hirayu hot spring.
Parking is possible by five units around the folk museum entrance.