A simple mixed sex bathing open-air bath

Outline

Heiroku-Jizo open-air bath is in Isibu which is the little fishing port of Nishi Izu Matsuzaki-cho. The side of the open-air bath is a bathing place beach. It is the simple bathtub made from the rock. Man's and woman's boundary is not in the bathtub. There is a big rock behind the bathtub, and Jizo sits on there.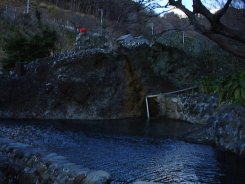 The figure which wears a red hood on the rock is Heiroku-Jizo.



Location

Isibu hot spring Matsuzaki-cho Kamo-gun Shizuoka-ken
TEL : 0558-42-0745 (Matsuzaki tourist society)



The legend of the Jizo

Long ago, there was a kindhearted person of the name of Heiroku. Heiroku had one child whom he loved very much. The child of Heiroku was playing on this beach in autumn of one year. His child was exiled in the sudden big wave.
It is said that Heiroku who grieved sat down every day without eating. Then, time passed, and Heiroku passed away. Villagers built a Jizo on the big rock on whitch Heiroku sits down and watch a wave every day. Then, they mourned over Heiroku and his child, and prayed that such a tragedy didn't happen again.
This Jizo is believed to have the divine favor of (marine safety, child's evil are put away, then, big catch) even now.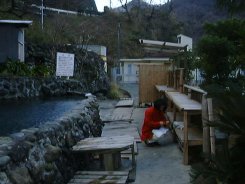 Impression

We wanted to go there once because we know the name of Heiroku-Jizo. We decided to visit there in January when there were few sightseers.

A fishing person was soaked in the hot spring first. My wife hesitated to be soaked because she didn't have a swimsuit. The previous visitor went and a couple came, we were decided to be soaked in the hot spring with them.

It is fine, but cold and windy. We hurried, and took off our clothes, and jumped into the hot water.

The water of the hot spring is lukewarm. Because a bathtub is wide, temperature of the hot water varies according to the place. Our body doesn't warm up, so we can't get out from the bathtub any more.

We determined and went out of the hot spring. It is intensely cold in the outside.
We hurried, and wiped a body, and put on our clothes in a minute.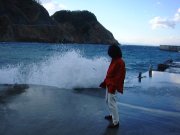 When there are few people, it is a wonderful place. Though it was wild and simple, we were satisfied with the open-air bath.

Business
| | |
| --- | --- |
| Business hours | You may always take a bath. |
| Closure day | open throughout the year |
| Charge | Free |

Access

Get off Tomei expressway Numazu IC, and be put on Route 136. There is a distance from Numazu about 90km. Proceed along the coastline through No.136 from Matsuzaki's town. You find a Isibu village after it proceeds for about 10 minutes. A way to go into the fishing port is hard to understand. Turn right in accordance with the little sign.

There is a parking lot for four units.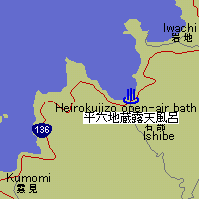 Visit day : in January, 1998