The popular hot spring relaxation center in Ibaraki

Outline

There is Gozenyama-mura in the border of Tochigi and Ibaraki prefecture. This village is a pastoral zone in the place where it is opened on the riverside of Nakagawa. Shikisaikan is the big hot spring relaxation center. It is build at the heights to overlook Nakagawa.

The parking lot here is large. However, it is almost full.

There is monument of the huge circle which has the strange shape in front of the building. The building is still new.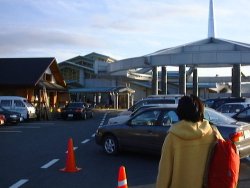 Location

Nagakura 407-2, Gozenyama-mura, Ibaraku-gun, Ibaraki-ken
TEL:02955-5-2626

The home page of Gozenyama-mura is here.



Impression

There are bubble bath, medicinal bath, lying bath, sauna, water bath in the bathroom. There are open-air bath and cascade bath in the outside. They are standard equipment as a relaxation center.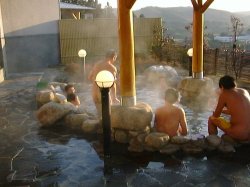 We felt that hot water temperature was a little lukewarm. Because the west side is opened, you can see the evening sun from the open-air bath. As we went there in the evening, we could look at the evening sun from the open-air bath.

There are big and small restroom which the floor is covered with tatami . Many people are enjoying karaoke in the big room. (until 17:00) In this room, to bring the foods is prohibited. But, many people brought fruit and sweets there .

There was also video theater. The comedy movie "the fifty-three post stations of the Tokaido, something..." was shown there. We wanted to see because it was a pretty interesting program.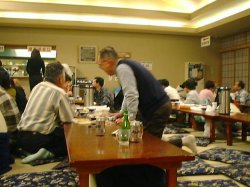 Equipments are new. There were very crowded by local people. We think there will be vacant in the early time. However, we recommend the beautiful view of the evening sun.

Business
Business hours
10:00-21:00
Apr. to Sept.
10:00-20:00
Nov. to Mar
Closure day
The first and third Thursday

In case of the national holiday, it will be the next day.

End of the year and New Year's Day
Charge
1000 yen.
Weekdays 800 yen.
after 16:00, 500 yen

Access

Pass through the road "Bird line" from Naka IC of Joban expressway. Then, go to Route 123. Go to the direction for Tochigi Prefecture via Route 123 which is along Nakagawa of the Gozenyama-mura. You will see Gozenyama bridge at the left hand and pass it. There is Shikisaikan on the hill at your right side.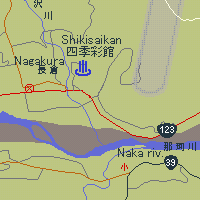 Tourist hint

You can buy local fresh vegetables with very cheap in the rest house "katsura" of the way along Route 123.

Visit day: February, 1998