A village-run hot spring at the Fuefuki River

Outline

The public hot spring of Mitomi-mura in the furthest part Route 145 (Chichibu to Kofu) is Fuefuki-no-yu. Mitomi-mura is in the valley of the Fuefuki River. The Fuefuki-no-yu is in about the entrance of the village. A baseball field is next to Fuefuki-no-yu.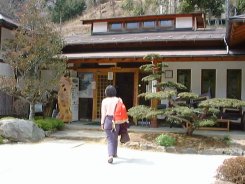 This is a relaxation establishment for the local people. This equipment is simple and clean. It is pleasant though the water of the hot spring is lukewarm. If you come here, summer will be good.



Location

447 Shmokamaguchi Mitomi-mura Higashiyamanashi-gun Yamanashi-ken
TEL:0553-39-2610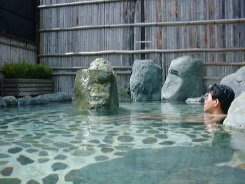 Impression

The water of the hot spring is transparent, and it is no smell. There are two inside baths and an open-air bath. The source of hot spring is not so high temperature. The water of the open-air bath is source water,so we feel the water lukewarm. The man who soaked first is dozing in the open-air bath.

There are two bathtubs in the inside bath.One bathtub is lukewarm, and the other side is hot. Which hot water is heated, too.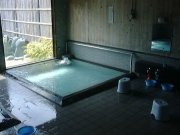 A lounge is very quiet without Karaoke. There is no restaurant, so you must bring a lunch by yourself. A local lady group relaxed in the lounge.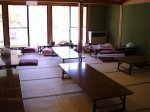 Business

Business hours
10:00 - 20:00
Closure day
Tuesday
The next day becomes a closure day at the national holiday.
Charge
500 yen

Access

Go past Enzan City, and go into Route 140 after you get off Katsunuma IC of the Chuou expressway. Proceed in Nishizawa valley direction, and go around the tunnel in front of Mitomi village office.
There is a parking lot.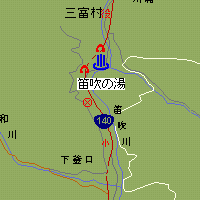 Tourist hint

Nearby tourist spots are Erinji in Enzan, Nishizawa valley.


visit day : April, 1998