It is close to Tokyo. "a new spa"


Outline

Akiyama-mura is a mountain village in the east of Yamanashi Prefecture.
Akiyama-mura dug a hot spring well by the governmental fund.
Then, "Akiyama Nespa" of the village management hot spring was made as a relaxation establishment in the eighth year of Heisei.

It is not a mere relaxation establishment, but emphasis is placed here as a "new spa" for the "exercise bathing" that is to do a exercise in the hot spring pool.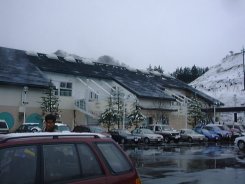 The investigation day was snowy.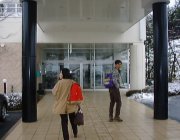 An entrance like a hotel



Impression

This hot spring is wide and pleasant. A bathtub is very deep and suitable for the young person's physique.
Temperature of the water is suitable for long time's soaking.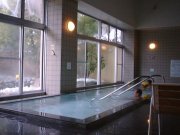 the main bath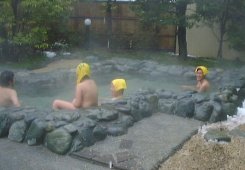 Both the inside bath and an open-air bath are a little deeply . Gentle environment music can hear it. I feel a city sense of the architect of this building.

I put on swimming trunks after the bath, and goes to the pool zone. The pool of 25m and a round pool are in the inside. Two round connected pools are in the open air.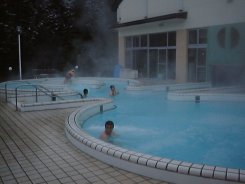 There is a jet current in the outdoor pool, and seems to use the pool for the aerobics during the water. The sauna hut of North Europe style is outside.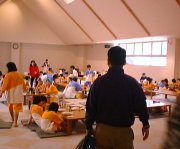 Delicious draft beer can be drunk in the lounge of the second floor. Sui-gyoza was good with the knob.


Investigation day : March, 1998

Location

2210 Akiyama-mura Minamitsuru-gun Yamanashi-ken
TEL:0554-56-2611



Business
Business hours
10:00 - 21:00
Closure day
Monday.
It does business at the time of the national holiday.
Charge
1700 yen
With a bath clothes and a towel
A swimsuit is 500 yen addition.
As for 1 day 1700 yen, the price is a little high. But, you can use pools, and a towel is lent.
A swimsuit for the pool is lent at another charge, too.
A child companion can play for one day fully.



Access

Get off a Chuo expressway by Uenohara IC, and go in Akiyama-mura direction for about 15 minutes through the prefectural road.
When you pass Akiyama tunnel, you can see a guidance sign, and turn to the left.
A parking lot is large.