---
This table shows the musical character and difficulty of each publication which is published. All sheet music here are on sale at Les Productions d'OZ and other Guitar sheet music stores. Especially you can watch demo videos at Les Productions d'OZ. Please visit Les Productions d'OZ.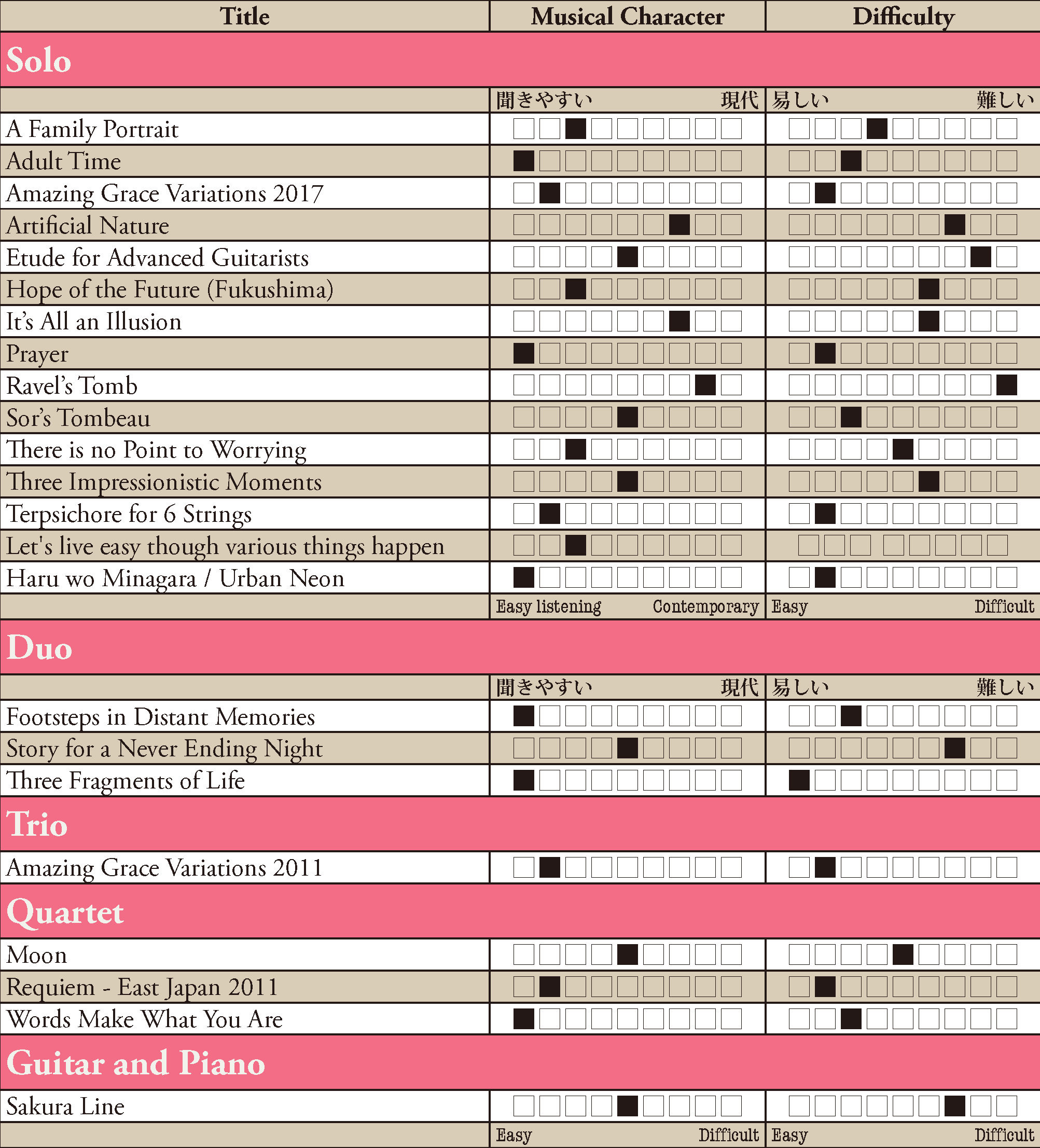 ---
Music for Flute
| | | | | |
| --- | --- | --- | --- | --- |
| | | | | |
| Re-Mi | A Longing | Elegy | Meditative Desert | Song & Dance No.1 |
Re-Mi is for a solo flute. Others are for flute and guitar. They were available as PDF score from Orihotone Music Publishers United, but they closed this site. Please contact me if you are interested in playing these pieces.
---
The Last Day's Story

For solo guitar. This is in a magazine 'Guitar Dream' No.21 by HOMA Dream inc. But this company stopped its activity
---
Siyoh Tomiyama Collected Works

The first volume includes "Inisie Matsuri," "Prelude/Fugue, " "Let It Be Scattered," and the second volume includes "Seven Dreams for flute and guitar."
This publication is now out of print since I recomposed "Prelude/Fugue" plus unpublished "Toccata" as "Tomb of Ravel".
---
Classic Guitar Beatles
Arranged by Siyoh Tomiyama
Published by Shinko Music Co.,Ltd.
Can't Buy Me Love
Eleanor Rigby
The Fool On The Hill
Help!
Hey Jude
In My Life
Lady Madonna

Let It Be
Martha My Dear
Norwegian Wood
Ob-La-Di,Ob-La-Da
Penny Lane
Yesterday
Sadly enough, this publishment went out of print.
---
Back to the entrance