Notice

All musical contents in this home page are basically copyright by Siyoh Tomiyama.


You may freely use this data for your own personal use, but you must apply to me for permission to use any of it in a public venue.


However, if it ever occurs to you (I'm sure it won't) not to uphold your part of the bargain, I will pray for all the Japanese gods of thunder, typhoons and earthquakes to shower disaster over you, wherever it is you may be!
---
Music and Me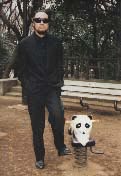 The thematic music of a famous French movie, "Les Jeux Interdits" was really popular in Japan when I first experienced guitar music. It was 1973 and I was twelve years old. One of my friends played only the melody of this piece and said "It's great, huh?" It seemed quit easy to play, so I asked my father to buy a guitar for me. However, I soon became bored with playing this melody and I started to become fanatical about popular songs.

I prefered to play pieces which included a guitar solo in the introduction as I felt something was missing by playing only an accompaniment. Around the age of seventeen, I finally started to practise the real guitar solo, that is, the classical guitar.No.4 of the twelve etudes by Villa-lobos had a strong influence on me at that time. I thought these pieces were really out there kind of like hard rock. I naturally started to compose after several months.

I was in the second grade of the Mathematics Department in University when I decided to seriously learn about composition under a private tutor. I was learning harmonics briefly under Mr. Ichiroo Kudoo until I graduated from university. After moving to Tokyo, I frequently visited the big music library in Kunitachi University to listen to and analyze famous works of our time. I also read many books on the theory of composition. It was during this period that I composed my first important work, "Variations on a Bach-like chorale and Fugue" for two guitars.

For this piece and several pieces after that, I tried to develop a new western-style classical music while respecting the traditional ways of composing. It was then that I was caught by the fascination of ethnic music. I listened to and played various music from around the world at an institution for ethnic music in Kichijooji, Tokyo. The piece which reflects my captivation with ethnic music the most is, "Song and Dance No.2" for violin, piano and darabukka.

After assimilating the essence of ethnic music, I purposely tried to compose a piece which did not use any of the musical techniques that I had been learning or discovering over the years. In that sense, the piece "Inisie Matsuri"was a trial attempt for me. It took two years to finish this work. But these efforts were rewarded by the receipt of the "Takei prize" in 1992, a prize awarded to the Japanese person who wrote the best guitar piece in that year.

While I could compose smoothly, I had to give up playing guitar to tendinitis. As I was planning to make a living by playing and composing, I instead had to work for a company which utilized computers. Fortunately, the salary was adequate enough so that I did not need to compose any "unwanted" pieces just to make money. Today, I enjoy the freedom of composing what I want.

I like classical composers as well as the Beatles, Deep Purple, Indian music, etc. I hope you will enjoy my variety of works.

In the last month of the year 2006, I came back to the guitar playing field. However I soon became not able to play any pieces. Later I found my real problem wasn't of fingers, rather it was the problem of my brain. Dystonia is the name of the illness. Although this is very difficult illness, I have almost fixed it and held my debut concert in 2012. I'm holding several concerts which introduce my compositions since then.
---
Back to the entrance