Giovanni Picchi/Pass'e Mezzo (antico)
(Intavolatura di Balli d'Arpicordo, 1621)
Japanese page
---
Very little has been known about the life of Giovanni Picchi, who is considered to be alive from late 16 C to early 17 C. He left several volumes of instrunmental pieces published in Italy, one for ensemble and two for keyboard solo, and one toccata which is included in the "Fitzwilliam Virginal Book" collected in England. One of the two volumes for keyboard pieces is especially exciting, of which the first piece is the present "Passamezzo antico".

Passamezzo is a harmonic pattern frequently used in renaissance and baroque era, and closely related to Romanesca, Folia, etc.


Passamezzo antico has more minor timber than Passamezzo moderno. The most famous example of Passamezzo antico may be the "Greensleeves", and we can often find Passamezzo antico's also in renaissance dance musics.
Picchi's "Passamezzo antico" is undoubtedly one of the largest scale and most exciting one among existing Passamezzo's. It consists of 6 serial variations, and one variation is exceptionally long in comparison with other Passamezzo's such as "Greensleeves", every variations contains passages with very novel and original senses. From the biggining, the resolute passage attracts listeners.


A bass pattern, linking two measures with the same root tone, which sometimes appears throughout the piece as well as his other Passamezzo's and those of Facoli's,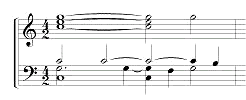 and characteristic jump of the root bass,

gives a strong impression of harmony of this piece.
One may be shocked very much at cadence of the first variation ("Prima parte").


This very surprising cadence, which almost reminds contemporary music, appears another 3 times in this piece. I guess that Picchi used such a demonic cadence extempore when he played keyboard musics of his composition as well as other composers'.
In the following five variations, virtuosic part with very fast ad-lib grace passages and rather slow relaxed part come alternately, continuously attracts listeners' attention. One of the most exciting part may be a very long 16th notes passage which appears in the "Terza parte".


Despite the repeat of exactly the same harmonic pattern, this piece never makes the listener be tired to the end, and concludes with a very impressive coda.

---

Back to early Italian baroque music recommendation page
---
Please send email about this page to:

Hiromi Okamoto (aHO) kh4h-okmt@asahi-net.or.jp
Yoshiko Okamoto (Oneh-san) ah2y-okmt@asahi-net.or.jp


.... we are waiting for your comments ....