Let's Visit the World of Iblard!
---

There are many bueatiful pictures as background in "Whisper of the Heart". Those pictures were drawn by Mr. Naohisa INOUE who was a professional painter. He took charge of the following scene. In "Whisper of the Heart", Shizuku writes her own story that appears as a play inside play. The play inside play has an extremely fantastic background, Mr. Naohisa INOUE drew them.
He keeps drawing the world named "Iblard" more than 20 years. He is making up the world of Iblard. There are quite a lot of common points of Shizuku's Story and the World of "Iblard" because both of them were drawn by him.

In this corner, you can see the world "Iblard" by Mr.Naohisa INOUE. Let's click here!


---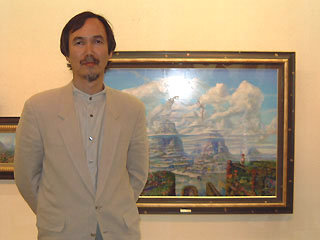 Naohisa INOUE






Naohisa INOUE

He was born in 1948 in Osaka Prefecture. He entered the art university in 1971 in Ishikawa Prefecture. After his graduation, he found employment in the advertising agency. He worked as a designer in the company, but he retired in 1973. After, he became an art teacher in the high school in Osaka Prefecture. He started the activity as the painter while the art teacher.
The Picture which he draws has united themes. The name of the theme is called "Iblard". It is a certain kind of fantastic nation. He became a professional painter after he resigned teacher in 1992. The painting which he draws has acquired very high popularity. His most expensive picture is worthy for 20,000 dollars or more.
Still more, he is publishing a lot of picture collections.


*All pictures has been permitted by the auther Naohisa Inoue to publish in here. (C)NAOHISA INOUE

---