What is Pmacs?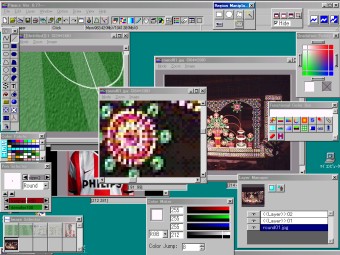 Whole image
Pmacs is the full color supported paint tool that have a lot of functions for image processing.
With Pmacs,you can create interesting image easily and joyfully.
And,It has powerful functions for creating CGs like a professional.
All the tools are made up by plug-in tools individually.That is, you can set up Pmacs as you like.

Points


| Combine

Layer
* It has standard layer funcitons with alpha-value
* It provides high level editing for images.

Path mode
* You can change coordinates after specifying.
* It is useful for drawing details.
Rich gradation patterns



3D drawing
* Drawing spheres
* 3D painting
* You can make button images for Web site
A lot of figure
*Line,Rectangle...
* Spline curves
* Text
You can show same image through any windows
* It like a lupe!
Abundant image effector
* A lot of noise reduction
* Adjust color balance
ŠLeft image is applied sepia,metalize,negative and edge detection


Convenience effector for a wallpaper
* You can make seamless image easily
.
Other functions
Undo,Set up wallpaper,Transforming,High-quality resize,flexible region,etc...
Pmacs is very powerful tool,but it costs only $30!
download
return