Mu-cade
for Windows
Mu-cade ver. 0.11
(C) Kenta Cho(ABA."Saba")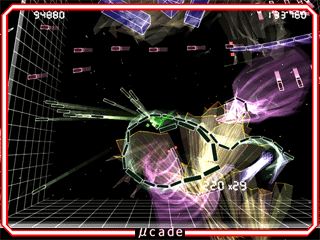 The Physics Centipede Invasion.
Smashup waggly shmup, 'Mu-cade'.
How to play
Keep your ship from falling down and push enemies out of the way.
Controls
Move - Arrow / Num / [WASD] / Stick 1

Move your ship.

Fire shots / Hold direction - [Z][L-Ctrl][R-Ctrl][.] / Trigger 1, 3, 5, 7, 9, 11

Hold a key to open automatic fire and hold the direction of a ship.Tap a key to take a turn while firing.

Fire shots - [IJKL] / Stick 2

You can also fire shots with the second stick.

Cut off the tail - [X][L-Alt][R-Alt][L-Shift][R-Shift][/][Return][Space] / Trigger 2, 4, 6, 8, 10, 12

Cut off the tail of your ship. This action also wipes out all bullets andyou obtain powerful shots for a while.
Tail multiplier
The tail of your ship becomes longer when you push an enemy out and you get a score multiplier.
Extra ship
You earn an extra ship 50,000 and every 200,000 points.
Download
Mu-cade is the free software for Windows(OpenGL required).
Acknowledgement
Comments
If you have any comments, please mail to cs8k-cyu@asahi-net.or.jp