---

Insect Stamp of Argentina
---
In Argentina, a Spaniard goes ashore in 1516. Rule of Spain was settled in 1573 and entered a follower Spanish as the La Plata vice-king territory who included Bolivia, Paraguay in 1776. It became independent from Spain as the La Plata alliance for further 1816 years and shifted to a republic in 1862, and the Argentine Republic was born. It pushed forward exclusion of a foreign capital, the industrial nationalization and collected support of a worker since Peron took office as the President in 1946.
Five kinds of insect stamps were issued from Argentina in 1989 and 1990.
Furthermore, four kinds of insect stamps like a photograph were issued in 2002 .
---
Argentina
1989.9.16 Normal Stamp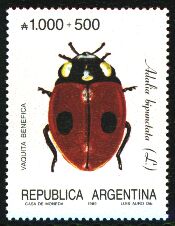 Two-spotted Ladybug
Adalia bipunctata
(Coccinelidae)
1990.6.30 Normal Stamp
Convergent Ladybug
Hippodamia convergens
(Coccinelidae)
Stink Bug
Podisus nigrispinus
(Pentatomidae)
Red Bug
Nabis punctipennis
(Nabidae)
Ground Beetle
Calleida suturalis
(Harpalidae)
---
2002.9.21 Insect Stamp
Green Stink Bug
Edessa meditabunda
(Pentatomidae)
Bush Locust
Elaeochlora viridis
(Acrididae)
Rainbow Leaf Beetle
Chrysolina aurata
(Chrysomelidae)
Cocoa Longhorn Beetle
Steirastoma breve
(Cerambycidae)
---

NEXT

to Stamp

to HomePage