---

Insect Stamp of Republic of Togo
---
A European began to invade Togo of a small country facing Gulf of Guinea in the 18th century, and it was occupied in 1885 by Germany, and it was it with protectorate Togo land, and eastern part was governed by the British and western part was geverned by the French after German defeat of World War I. The British territory western part became independent as a Ghanaian part in 1957, and the French territory eastern part became independent as Togo in 1960, and an area independent as a Ghanaian part joined it, too. However, it underwent independent afterward political confusion and shifted to military administration in 1967. It shift to republican form of government (a civil administration) in 1979 and is succeeding in stabilization.
The protection-of-nature stamp which drew Goliathus Beetle from Republic of Togo in 1955 was issued. Six kinds of beetle stamps and one kind of small sheets were published in 1996.
Republic of Togo was taken up this time, although it considered as the insect stamp issue country which is not desirable in order to issue the stamp which drew the insect without limiting to the insect which lives in its own country.
---
Republic of Togo
1955.2.5 Protection-of-nature Stamp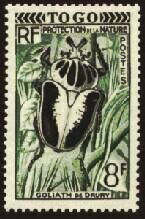 Goliath Beetle
Goliathus regius
(Scarabaeidae)
---
1996.5.5 Beetle Stamp
Purpuricenus Longhorn Beetle
Purpuricenus kaehleri
(Cerambycidae)
Metalic Beetle
Carabus auronitens
(Carabidae)
Cedartree Borer Beetle
Semanotus rassicus
(Cerambycidae)
Blue Longhorn Beetle with Black Spots
Rosalia alpina
(Cerambycidae)
Blister Beetle
Mylabris variabilis
(Melioidae)
Longhorn Beetle
Psalidognathus alys
(Cerambycidae)
Black-stripe Stag Beetle
Odontolabis curera
(Lucanidae)
---
2011.2.15 Insect protection of Nature Stamp
Grapevine Beetle
Pelidnota punctulata
(Scarabaeidae)
Papua Golden Stag Beetle
Lamprima adolphinae
(Lucanidae)
Wheel Bug
Arilus cristatus
(Reduviidae)
Dogbane Leaf Beetle
Chrysochus auratus
(Chrysomelidae)
Bean Blister Beetle
Epicauta parvulus
(Melioidae)
---

NEXT

to Stamp

to HomePage