---

Animal Stamp of Philippines
---
The Philippines is comprizing Luzon, Mindanao, Cebu from islands more than 7000. Magellan became a Spanish colony in 1571 after a visit to a shore in 1521 and it declared independence in 1898, but it was governed for about 40 years after 1901 by U.S.A. and Japan force occupied it during World War II, but achieved independence with Japanese defeat in 1945 as the Republic of the Philippines in 1946.
4th Meeting of India Pacific fisheries board of directors Stamp on which it drew milkfish of Gonorhynchiformes in 1952, two kinds of design different colors were published by these Philippines.
Wild Animal Protection Fund Contribution on which it drew Owl 4 kinds was published in 2004 year.
---
Republic of Philippines
1952.10.23 4th Meeting of India Pacific fisheries board of directors Stamp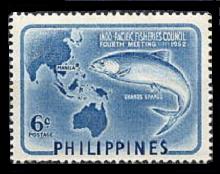 Milkfish
Chanos chanos
(Chanidae)
---
1979.5.14 Philippins Animals Stamp
Malayan Civet Cat
Viverra tangalunga
(Viverridae)
Crab-Eating Macaque
Macaca fascicularis philippinensis
(Cercopithecidae)
Wild Boar
Sus celebensis philippensis
(Suidae)
Leopard Cat
Felis minuta
(Felidae)
Asiatic Dwarf Otter
Amblovx cinerae
(Mustelidae)
Malayan Pangolin
Manis javanica
(Manidae)
---
2004.12.22 Owl Stamp with the Wild Animal Protection Fund Contribution
Giant Scops-Owl
Mimizuku gurneyi
(Strigidae)
Philippine Hawk Owl
Ninox philippensis
(Strigidae)
Philippine Scops-Owl
Otus megalotis
(Strigidae)
Philippine Eagle-Owl
Bubo philippensis
(Strigidae)
---

NEXT

to Stamp

to HomePage