---

Insect Stamp of Liechtenstein
---
Principality of Liechtenstein is a small constitutional monarchy of 20 several km southern north and 10km East-West, and the gross domestic product (GDP) per one people is the world top-class. Liechtenstein family purchases both Vaduz and Schellenberg dukes territory in 1712, and it is an opening that it gets autonomy from Holy Roman Empire in 1719, and became a dukedom. It belonged to the German federation and became independent afterwards in 1866. It declared permanent neutrality in the next year and repealed armaments more in the next year.
Stamp one kind which it drew European Owlfly on was published from this Principality of Liechtenstein in 1989.
In 2007 year, three kinds of insect stamps were published.
---
Principality of Liechtenstein
1989 Insect Stamp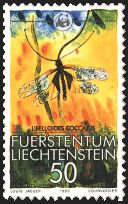 European Owlfly
Libelloides coccajus
(Ascalaphidae)
---
2007.9.3 Insect Stamp
Chequered Beetle
Trichodes apiarius
(Cleridae)
Common Rose Chafer
Cetonia aurata
(Scarabaeidae)
Eupopean Great Diving Beetle
Dytiscus marginalis
(Dytiscidae)
---

NEXT

to Stamp

to HomePage