How I have struggled in recent years trying to find a good way to display my prints in the gallery! During the years of the Hyakunin Isshu series, I really didn't have much choice over display methods - there were so many prints to show that the only affordable option was simply to stick them up on the wall en masse. Whether or not they were well displayed simply wasn't a factor. At the time I showed the first sample print of my new Surimono Albums series, I built a special room at the back of the gallery, and that seemed to work well - the print was shown under soft light and looked quite beautiful.
When it came time for the first Surimono exhibition, in January of 2000, I tried to duplicate that light for the entire set of ten prints. I built an extensive array of shoji screens, and placed the prints in front of them. Did they look beautiful? Yes they did, but there were a couple of drawbacks. It is my custom to always include a small essay with each print in the exhibition, and that year I printed these on cards and placed them beside each print. But because the tables were so low and the light was so dim, it was very difficult for people to enjoy reading them. I heard many 'complaints' of "My back is getting sore!" and "I can't see anything properly!" It seems that an idea that had worked very well for one single print just didn't scale up properly to a full exhibition ...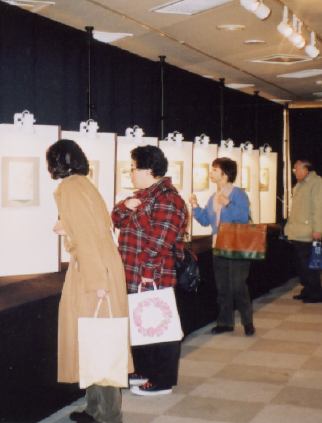 For this year then, I had to come up with something different. Money was very tight (because of the new house purchase), and time was even tighter, but I had to find a good solution to this problem. I thought back to last spring, when I had received a request from an interior design company who wanted to borrow some of my prints for display at an event they were hosting. They did a beautiful job of showing the prints, using a series of angled wall panels with overhead spotlights. Now although this sounds like exactly the kind of thing I am against - putting the prints up on the wall under bright lights - the fact that the lights were directly over the prints made a wonderful difference. All the embossing was clearly visible, the colours were clear, and the paper texture was palpable.

I decided to do the same thing at my own exhibition. Sadako and I sketched and planned how to do it, then went to the lumber store and brought back a load of materials: plywood, wallpaper, spotlights, and all the assorted hardware we would need. By this time my Hamura apartment was empty, as all the furniture and workshop equipment had been moved over to the new place, so the two of us spent a few days in the empty space putting together the whole thing, in a form that was easily knocked-down for transport to the gallery. We ran into a few small problems during the construction, but nothing that we couldn't solve, and after it was all set-up in place in the gallery, were pleased to see that the prints did indeed look great!
So did the visitors enjoy it? Yes, the response seemed to be positive. Quite a number of people who had been to the previous exhibition were certainly surprised to see the new lighting system, but nobody complained - I think they were too pleased to be able to see the prints so clearly.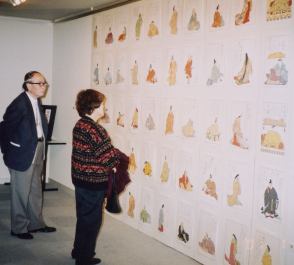 Attendance this year was down somewhat from last time. I only had to use one guestbook, compared to two last year (let alone the five that were needed for the final Hyakunin Isshu exhibition!). This was mostly due I think to very light media coverage. I have learned that the phrase Surimono Albums certainly doesn't have as much media impact as Hyakunin Isshu! Obviously, quite a lot of my 'popularity' during those years was due to the theme I had chosen, and to the fact that the project was taking ten years to complete - something that the media found interesting. Maybe I should announce that I am making 500 surimono prints - ten each year for 50 years! Then perhaps the media would pay more attention?

But of course I will do no such thing. The exhibition was lightly attended, but there were orders, and it seems that I will be able to continue the work for another year ... When I started making these Surimono Albums I re-calculated all my costs and expenses, and organized things in a different way from the Hyakunin Isshu series. For that series, the print price had been 10,000 yen, and I made 100 copies of each. The books came close to balancing (at least in the later years of the series). But for the surimono, I wanted to keep the price at a lower level, so I increased the quantity to 200 copies of each print, at 6,000 yen. This means a lot more printing work, especially as these prints generally have many more colours, and it also means I have to find more collectors to be able to survive, but it does mean that the albums are much more affordable for most people.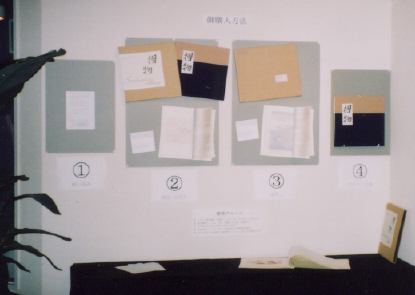 After two years have I now reached that 'target' of 200 collectors? No, not yet; the second album was collected by 113 people (their names are listed on the last page of the album itself). This wouldn't be enough for me to make a living, but because I am still working on reprints of the Hyakunin Isshu series, the overall 'books' balance alright ...
The problem though, is that because of the increased colours, and the increased quantity, and the 'double' series, I have - as you collectors are well aware - slipped later and later in the schedule, and indeed had not finished the tenth surimono print in time to display it at the exhibition. I don't have a ready answer for this problem, but can simply ask everybody to be patient. What's that phrase you sometimes see on the menu at 'fancy' restaurants ... 'Good cooking takes time ...'
Bon appetit!