The 'Exhibition Reports' in this newsletter usually appear only in the spring issue, but this year there's a bit extra to report on! As I mentioned last time, I was invited to take part in an 'Exhibition of Traditional Japanese Crafts' held this summer in the Takashimaya department stores in Osaka and Kyoto. Each show was six days in length, and consisted of about 50 booths showing the products of craftsmen from all across the country. This year, for the first time, a group of foreigners were invited to join the event - myself and four others. It seems as this annual exhibition has been running for many years, the organizers were looking for a way to 'freshen' it up a bit by including something a bit different.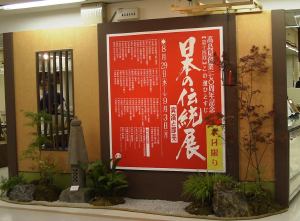 Whether their plan worked or not I have no idea - but it was certainly fresh to me! I have been having my own exhibitions for twelve years, but this event was completely different from any of those. I faced a number of challenges in trying to do a good job at Takashimaya and first among these was creating the display. I am sort of 'spoiled' by using the Takano gallery in Shinjuku for my exhibitions; it is so wide that even when I show the full Hyakunin Isshu print set I can fit everything in. For this event though, I had a space only a few square meters in size, and I realized at the start that my usual method of displaying 'prints + stories' just wouldn't fit. I was saddened by this, because I feel having them displayed together encourages viewers to spend enough time with each print to be able to 'absorb' it properly. But it was obvious that in the department store far and away most of the people would simply be strolling around, and they would have no particular interest in my prints, unlike my Takano shows, where the only people there are those who specifically come to see my work.

So Sadako and I tried to prepare something that would catch the eye of the passers-by and draw them in to spend some time looking over the prints. We devised a display combining some of the screens we built for last January's exhibition and some stands we asked the Takashimaya people to build for us. It looked a bit crowded when it was all set up, but it was effective - viewers did find the prints attractive and easy to look at.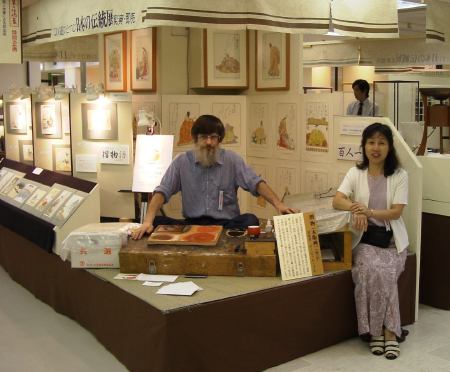 Over and above that initial challenge though, was the question of what the viewers would do once they had inspected the prints. Most of them of course, would just walk away; because of my insistence on never breaking up the albums, I never make 'casual' sales. So I really didn't expect to meet too many new collectors at these events; indeed, during the initial discussions with the Takashimaya people I had emphasized this. They were paying my hotel and transportation expenses, and I wasn't sure if they would get enough back. They hadn't seemed overly concerned though, and I guess from their point of view, they weren't really expecting to make a lot of money from the five foreigners; this was all pretty much an experiment on both sides ... During the course of the shows, we five joked among ourselves that we were the 'pandas' - an attraction to bring people in the door, people who would then spend money with the other displayers ...
By now you must be thinking that I'm about to tell you I was 'shut out', and that I didn't meet any new collectors at all. Actually, that wasn't the case, and among the people who stopped to talk about the work there were indeed a few who decided to collect one of the albums. I'm happy to have had this opportunity to meet them, and the fact it didn't happen very often made it all the more special!
Being part of an event in a department store like this gave me a bit of a different viewpoint on this question of being a craftsman. Making a living these days as a craftsman requires that one be good at two very different activities - making the product, and selling it. Not only do these two activities involve very different skills - they are completely incompatible with each other time-wise. You can be in the workshop concentrating on the work, or you can be out in a store showing things to people. You can't be in both places. At the time of my first exhibition more than twelve years ago, I had already worked out my 'solution' to this dilemma - I would never sell prints one-by-one, but only through annual subscriptions. This would keep me out of the 'store' and in the workshop.
I have stuck with that system for all the intervening years, and the experiment of participating in these shows reminded me again just why I have. Success in a department store is measured by one simple thing - "What was your sales total today?" Every morning during the shows we were given a printout showing not only our own sales for the previous day, but totals for other participants as well. But 'sales totals' are not how I wish to measure myself. I don't want to sound naive and idealistic, and of course selling my prints is an essential part of the process - that's why I went to Takashimaya - but when selling becomes the most important thing, and when the people who attend are seen only as potential buyers, as I saw all around me during the course of these shows, then I wish to step aside ...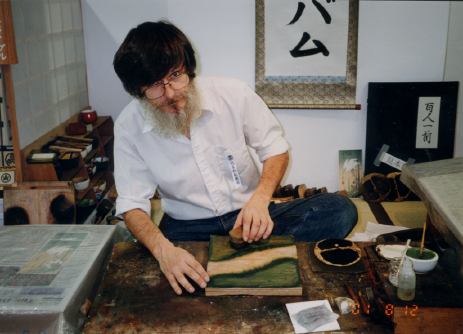 Takashimaya treated us wonderfully: they paid a raft of expenses, wined and dined us endlessly, were as friendly and supportive as they could possibly be, and never overtly pressured us about selling. They did everything very professionally indeed, and I can't find one iota of criticism for them. I learned though, that in their world I was the odd-man out, and I suppose this will be the end of my department store career (at least until that far-off future day when they decide to hold a special exhibition of my life work!)
With nearly ten hours each day spent working in the store, there wasn't much chance for us to see much of Osaka or Kyoto beyond the path to the hotel, but we did get a chance for some early morning and late evening walks to make a reacquaintance with some Kyoto back streets ... All in all, going to these Kansai shows was a worthwhile experience, and the friendships we made among the craftspeople will last a lifetime. Now though, with more than two weeks 'chopped out' of my schedule, and the January exhibition looming ever closer, I've got to get my nose back down to the blocks!