Visit to The Toyo Bunko
Once upon a time, back when I was a very little boy, I was planning to be a jet pilot when I grew up. At some point that idea faded away (perhaps because I had to start wearing glasses) and I moved on to other dreams. I suppose, as with most children, there were many of them during the years, more than I can now remember ... but another one does stick in my mind; when I was a grade seven student, I wanted to become a librarian. I still have memories of staying after school to help the school librarian with 'chores' such as preparing catalogue cards for the new books, pasting labels in them, and then arranging them in the proper places on the shelves. Actually, I don't think it was the idea of being a librarian that attracted me so much as the idea of working in a library. All those books ... row after row of books ... Years later when I got my first 'real' job, working in a music store, this dream came partially true. One of my main tasks was organizing and maintaining order in a vast mountain of music books that crammed a warehouse in a back alley. It was the perfect job for me, and I did it very well indeed. (I did it so well that I was soon promoted to 'higher' levels in the company, where I doubt that I was quite so effective ...)
So it was then, that the preparation for this story was especially interesting for me. One day this May Sadako-san and I made a visit to the Toyo Bunko, the research library in Bunkyo-ku here in Tokyo that owns the original copy of the Shunsho 'Hyaku-nin Isshu' book that I am reproducing. We were welcomed by Mr. Isao Koyama, who has been my contact there during the years of my work on this series, and who kindly took time to give us an overview of this very interesting place.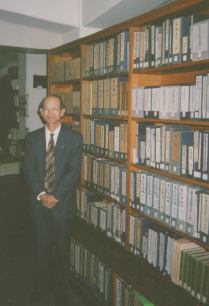 Unlike a 'normal' library, here no books are visible when one first enters the large and mostly bare reading room containing some old, rather spartan tables and chairs. The visitors, mostly scholars and researchers, make requests to the staff for the particular items they wish to see, and these are then brought up to this room from their resting places deep within the building. As I wrote in this newsletter some years ago, when I first went to the Toyo Bunko I had not really expected to be allowed any access to their collection. I was not an 'official' scholar, I had no connections, no introduction ... just a rather scruffy bearded foreigner in jeans. But for some reason Koyama-san decided to trust me that day, and agreed to bring out the Shunsho book for my perusal. I can still remember the apprehensive look on his face as I sat down at one of the old tables and started to open it up. He must have wondered - did I know how to handle such an old book? Would I smudge the pages? Tear some of them? Was he making a big mistake?
We laughed about that during this visit. Yes, he admits that he hadn't felt so comfortable about handing me the book. This is a constant dilemma for them: finding a balance between caring for their treasures, and allowing them to be handled, studied and used. Although I as a printmaker want to touch these books, feel the soft washi under my fingers, and try and get close to the men who made them, it is Koyama-san's responsibility to see that they are passed on to future generations in the best condition possible, which means that only a minimum of physical contact can be permitted.
'His' collection is vast indeed. At present, more than 800,000 items are cared for in this building; not only Edo-era books like the ones in which I am interested, but volumes from Korea, China and indeed from every part of Asia. The Toyo Bunko was established about seventy years ago by Hisaya Iwasaki, a member of the founding family of the Mitsubishi industrial group, who had assembled a large collection of materials on Asia through purchase of various private libraries, and then set up a foundation to make them available to scholars. Since 1948, the collection has been part of the National Diet Library.
Although I had not dared to ask if it was possible, partway through our visit Koyama-san offered to take us back into the 'stacks' to get a quick glimpse at the books themselves. When we passed through the heavy door leading to the storage areas, I found that it was not at all like what I had expected. I had imagined it would be something like entering a deep dark and gloomy mine, with rows of dusty tomes stretching off into the distance ... Something like one of those old bookshops in Kanda, but multiplied a thousandfold. Would we hold a lantern aloft as we made our way along, looking behind occasionally to make sure we weren't getting lost?
Well of course it wasn't like that. It was unbelievably clean; the floors smoothly polished, the books all in absolutely straight rows on neat shelves. A bit shadowy, yes, as the lights were kept dimmed to help preserve the books, but gloomy, no. As Koyama-san led us along, it was obvious that he knows his way around these miles of stacks just as well as I know my own tiny bookshelves at home. He stopped here and there to point out various items of particular interest: a shelf of ancient prayer materials from Tibetan monasteries, a huge collection of Western books on Asia, some astonishing hand-painted picture books from the Nara era, an entire section of books written in a Mongolian language now practically 'dead', and of which their collection is the last hope for preservation ... Of course he also made sure to stop off at two rather special places in the tour; the area in which his own research is taking place, materials on Eastern architecture, and then that out-of-the-way corner of the bottom shelf of the farthest corner of the last floor, partially hidden behind boxes of books on the floor ... that place where I spied a row of familiar blue cases ... the growing collection of my own Hyaku-nin Isshu prints!
Sadako and I laughed when we saw where they were, because of course we understand that these prints are a long long way from being 'special' to the curators of this incredible collection. It will be many years yet, many centuries yet, before the day comes when scholars in the reading room upstairs will start to make requests to see these prints ... "Hmmm. Quite interesting ... Made way back in the Heisei era ... What does it say here - 'Carved and printed by David Bull' - I wonder who he was ...?" I don't know if those men will understand much about what I've done, or why I've done it, but at least they will have the chance to see my work. Thanks to this extraordinary institution, men of the future will always have these links with their past. Koyama-san and his compatriots are quite proud of this; being responsible for caring for all these important historical records, and preserving them as best they can.
All too soon our whirlwind tour was over, and regretfully I passed back into the normal world, the heavy door closing behind me, shutting off my view of those endless shelves of treasures ... Koyama-san returned to his own work, and we stepped out into the bright sunshine and started to make our way home. But as I walked away from the building, I felt a new sense of pride; that my little prints are part of the same collection as all those treasures. I don't care if they are on the bottom shelf - as long as they are part of this magnificent collection of human achievement ...
Excuse me ... you there five hundred years from now, in the year 2496, why don't you drop over to the Toyo Bunko one day. Fill out a request slip, sit down at one of the old tables (they probably won't have changed much by then!), and take a look at my prints ... And if you like them, please don't thank just me for making them, but say also a word of thanks to Koyama-san and his colleagues, for it is their dedication that allows you to reach back into the past and touch such treasures ...