Care and Feeding of your Woodblock Prints
I have been getting occasional requests recently from collectors wanting information about the best way of taking care of their prints. I discussed some of these things a few years ago in a little pamphlet I enclosed with the earliest prints, but perhaps I should go over them more closely. After all, some of you now have quite a large pile of prints building up, and I would hate to think that they weren't being well taken care of!
Airing
Unlike newsprint, the washi (Japanese paper) with which these prints are made does not contain many acids, and thus does not turn brown and crumble after just a few months, like your newspapers. Washi is one of the longest-lasting papers in the world, and does not really need much special care and attention to preserve it. There are a few things you can do however, to help your prints to survive for the longest possible time. If they are kept in a location where air cannot circulate, it is much more likely that they will become mouldy, or attacked by fungus. The packaging I provide with your prints (the blue case and torinoko folders) is designed to make a proper 'home' for them, but if they were to be left sealed inside it for years on end, they would not be 'happy'. Most libraries, or people dealing with old books or manuscripts, try and ensure that the materials under their care are exposed to the outside air at least once a year. The best time for this is of course the cold, dry autumn and winter months.
Take each folder out of the bookcase or closet where it usually lives, open it on a table, and leave each print open and exposed to the air for a half-hour or so, turning the pages one by one during the day. If you do this at least once a year, preferably in the autumn just after the humid season is over, the life of the prints will be extended considerably. Of course, if you have been looking at the prints frequently, this special 'airing' isn't necessary, but if it has been a long time since you have taken them out, it wouldn't be a bad idea ... (Do I need to mention also, that the plastic envelopes you find covering each print folder when you first receive it, should be discarded? Their only purpose is to protect the package during shipping.)
Frames
Although I don't like using them, I know that many of you have some of your prints in frames on the wall. If you are doing this, there are a couple of things to be careful of. The most important is that the frame should not hang in a location where direct sunlight can strike the print. The 'ganryo' pigments I use are very resistant to fading, but the impact of direct sunlight will have a bad effect on them, over lengthy time periods. Some years ago, I tested this by taping some prints outdoors on my south-facing balcony wall, exposed to sun, rain and wind. After three or four years out there, the colours still compared favourably with copies I had kept protected indoors, but the paper did start to become faded. (Unfortunately, this experiment came to an end one night during a typhoon! I have no idea where those prints are now. Perhaps they have become my most 'widely travelled' works ...)
Another problem with frames, is that if they are left unattended over a period of some years, they become attacked by various growths, both on the inside surface of the glass, and on the paper itself. They must be opened, checked, and cleaned at least once a year. (An even better idea of course, is to change the print in the frame regularly, perhaps each month, or at least each season ...)
Shipping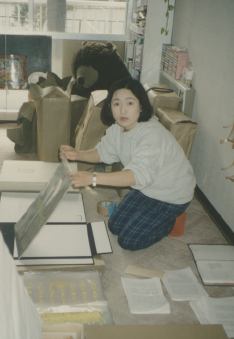 It occasionally happens that one of my packages is damaged during shipping. The Japanese Post Office has always given me wonderful service, but my packages are a bit of an awkward shape, and sometimes arrive in damaged condition. If this happens to you (or has happened in the past), please do not hesitate to contact me for a replacement, either for the torinoko folder, the blue case, or for the print itself. I consider it my responsibility to get the print to you in good condition. If anything is damaged during shipping, I will replace it. I am always prepared for this, and have an 'extra' stock of material here, set aside for this very purpose. Please do not hesitate to let me know about such occurrences.
It is very interesting that non-Japanese make up only about 10% of my collectors at the moment, but account for more than half of all 'damage' claims. Do their packages get damaged more frequently? I don't think so. Simply, they are more willing to speak up and let me know what happened ... On the other hand, it is the Japanese who are much more willing to speak up about faults with the prints themselves, things like scratch marks in the washi, or a blotch of sumi somewhere. I am of course happy (is that the right word?) to hear all such comments, as it is only thus that I can find out when things are going wrong ... So speak up!
Future
If you follow these simple suggestions, and look after your prints properly, they will last for many many years, indeed, far beyond your life span. Although it is you collectors who have paid for these prints, and by doing so, helped them come into the world, you are actually only temporary caretakers. I feel a bit of sadness about this. Woodblock prints are not at their best when new. The washi is still hard and brittle from the effects of the 'sizing' applied before printing, and the colours are still quite hard and bright. It will take quite some years for them to mellow into their true beauty. Although many prints from the early Edo era are now quite heavily faded, those from late Edo and Meiji times are just now arriving at their 'peak', the paper soft and fluffy, and colours smoothly blended and balanced. But by the time my prints reach this stage, you and I will be long gone ... It seems that we are doing all this for future generations ...
To hold one of these beautiful objects in one's hand (not seeing it in a gallery or a museum behind glass!) is truly to understand what hanga is. I have talked about this many times before, but I can't emphasize it enough. A woodblock print is a very intimate object, and can only be properly seen and appreciated in conditions akin to those in which it was created. A low table ... soft, horizontal light ... close contact ...
So please take good care of your our prints, and try and pass them on to your grandchildren in the best condition. But do you really think they will be interested? Sometimes I wonder ...