Back in the days when I lived in Canada, and was thinking about coming to Japan, I read many, many books about this country. I read a real mish-mash of books, new ones ... old ones ... anything I could find. The image I developed of Japan was actually very out-of-date, and not really very practical at all. (I would have been better off forgetting the books, and just trusting to my own eyes and ears once I arrived here.) But I do remember one particular fact that I read in a book on how to 'survive' in Japan. The author made comments to the effect that 'it will take you a minimum of about five years to get your venture established in Japan'. Now this was in a section that discussed business matters, and I didn't think at the time that it had much application to what I was planning - studying woodblock printmaking. But now when I think of the time elapsed since the fall of 1988, when I made my decision to 'shoot for woodblock printmaking' rather than making wooden toys, I realize that he was right ... about five years to get established.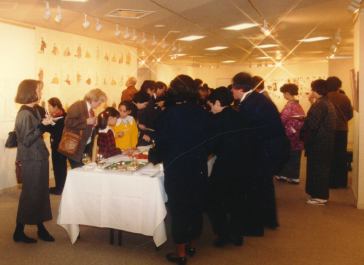 Of course, the reason I bring this up now is that I do finally feel 'established' in my printmaking venture. The January exhibition this year was a wonderful success. The media attention was excellent in all fields: newspapers, magazines, radio, and TV; and this resulted in somewhat over a thousand people coming through the gallery over the six days. I had a great time explaining my work to them, and enjoying their comments. Some were hanga hobbyists who brought their own work to show me; some were just curious about this foreigner challenging a traditional Japanese craft; and of course most were fans of the 'Hyakunin Isshu', and these people were delighted to encounter Shunsho's interesting series. But exhibitions like this have two purposes, of which the 'show-and-tell' aspect is only one. I also very much needed to meet people who were willing to join the project as collectors. I am happy to be able to tell you that over two dozen of the visitors decided that they would like to collect some of my prints, and asked to join the project, some for a year, and some for longer.
This is just about a perfect result for me - not too many, not too few. It is a great relief to have the number of collectors finally at a point where I do not have to continuously worry about whether or not there will be enough money for the rent each month, yet it is certainly not too many to maintain at least some level of personal contact with each collector. After the exhibition, one of my friends was worried that, "Now you've got so many collectors, will the quality of the prints go down ...?" I just laughed at him. In terms of work hours, nothing has changed for me. The carving is exactly the same, and as for the printing, I still make 100 copies each month, just as I did before - only now, the number being sent out is finally greater than the number being stored in my workshop. (The two ladies who help me with folder making, wrapping and shipping will perhaps be pleased to have a bit more work ...) I will have to spend a bit more time reading and writing letters each month ... but that's fun, not work. All in all, I could not have asked for a better result from the exhibition.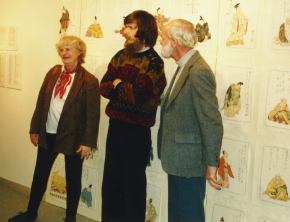 So five years was right ... But actually, it has taken much longer. I made my first woodblock print just over 13 years ago, back in Canada, during my 'salaryman' days. It was a terrible print, absolutely terrible, just like a child would make. But I knew when I saw it, that I wanted to do more ... I wanted to get better ... I wanted to make beautiful prints like those I had seen exhibited somewhere ... I wanted to be a printmaker. And I guess that's what I finally am ...
There is an interesting quotation left by George Bernard Shaw to the effect that there are two tragedies that can befall a man in his life. The first, is to never attain your dream. The second ... is to attain your dream. The implication of course, is that once you have got what you wanted, you find you are still unhappy. Well, although I have finally attained my printmaking goal after thirteen years of dreaming, please be assured that there is plenty of challenge left in life. Compared to the craftsmen of days gone by, and even to many of those still active today, I still have a long way to go. A long, long way to go.
I really believe Mr. Shaw's dictum is true. But I'm not worried about it. Neither about the first part, nor the second. Because I've learned a way to escape the paradox. Simply have multiple dreams: reachable ones ... but also ones that will forever remain outside your grasp.
Is it thus really possible that at forty-two years of age, I've found the 'secret of life'? Really? I've always had the idea that such thoughts were for white-bearded sages living off in seclusion somewhere. But when I looked in the mirror this morning, I realized ... perhaps that's me! Good grief, what a thought!