January 22~28, 2006
Seventeenth Annual Exhibition
(Tokyo Kotsu Kaikan, Yurakucho Tokyo)
This was our second year in the Kotsu Kaikan building in the heart of the Yurakucho district of Tokyo. It's mainly an office building, but there is a mall level at the bottom, with a mix of shops, restaurants, and gallery spaces.
If you have a good internet connection, then you can see a small movie 'tour' of the exhibition here. (17Mb)
Here is a sequence of photo screen shots from that movie. We'll start the tour with the view walking towards the 'Gold Salon', our gallery: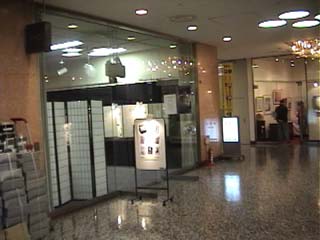 The gallery has two rooms; this is the view looking in from the mall: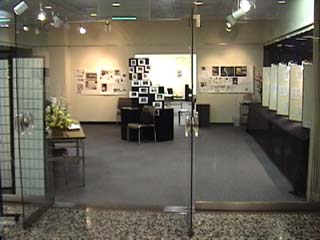 In the middle of the front room - mainly to fill up the otherwise empty space - is a kind of tower plastered with stills taken from various TV programs that have featured my printmaking work: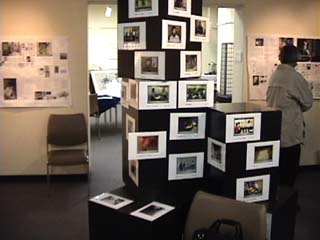 On each side of the front room we built a curtained display, to highlight the prints from the Treasure Chest series. There are 12 on each side of the room ...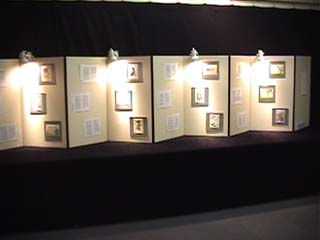 Each print is mounted on a panel, together with a printout of the small story that accompanied it when it was sent to the collectors: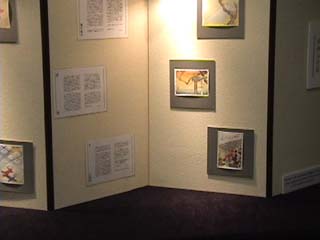 As always, there are no frames, no glass, nothing between the viewer and the beautiful paper.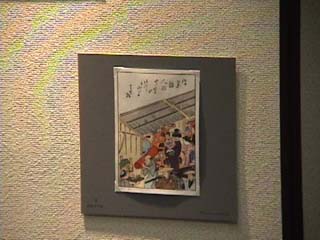 On the back wall of the front room - on each side of the passage to the other room - is a display of recent newspaper and magazine stories. Having these here saves an awful lot of 'explaining', as people stand and read the stories, which give a pretty good overview of the work ...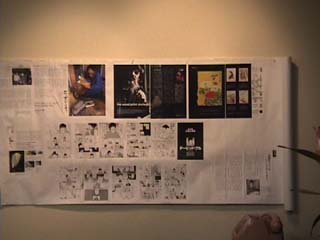 This is the right hand wall of the back room, and the display is the same as last year - a selection of 40 prints from the '100 Poets' series.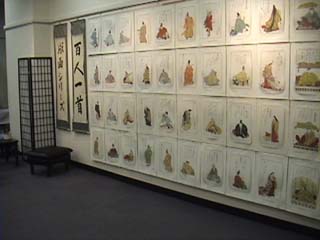 Next to them are two of the prints from last year's 'Beauties of Four Seasons' series ...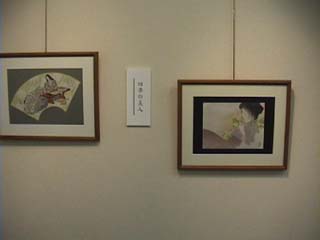 This shot was taken looking across the back room. On the far wall are the entire 50 prints from the 'Surimono Albums' series, and in the foreground is the table that has all the sample sets and order forms for the prints.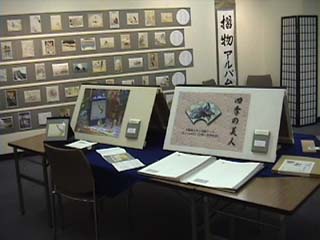 At the back of the room are the stands containing the 'David's Choice prints - items from my own collection, displayed here to try and show people some of the hidden treasures of the world of woodblock printmaking!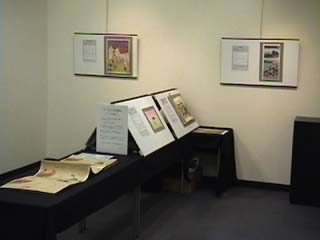 There is also a display of the two new printmaking projects for 2006, along with the first sample of the case for the Small Print Collection, and the order forms.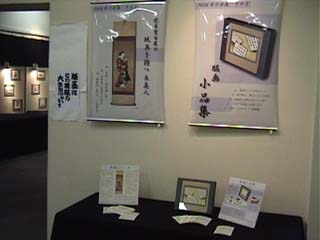 Here we are looking back up towards the front of the room, and you can see this year's assistant Kei-chan, sitting at the information desk ...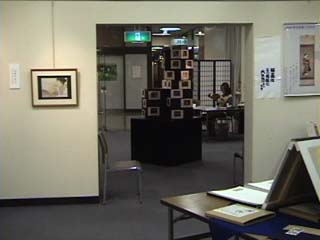 Thank you for taking this 'virtual' tour of the exhibition. I wish you could come and see it for 'real'!