January 22~27, 2004
Fifteenth Annual Exhibition
(Gallery Shinjuku Takano, Tokyo)
Regular visitors to this website should feel plenty of 'deja vu' on this page ... not much is different from last year's exhibition report!
If you have a good internet connection, then you can see a small movie 'tour' of the exhibition here. (6Mb)
From the elevator lobby, the entrance looks pretty much the same as it does every year: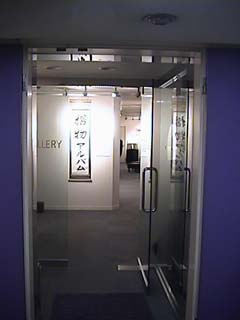 Stepping inside ... to the left is the reception desk, with flowers sent by collector Mrs. Yokota, and the guest book ready for use ...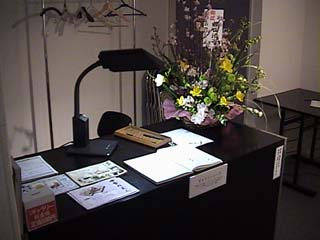 To the right are the first panels with prints from the 5th Surimono Album mounted together with their stories: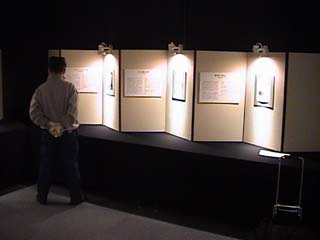 As usual, this area of the room is kept under dim illumination, with each print mounted under a small spotlight ...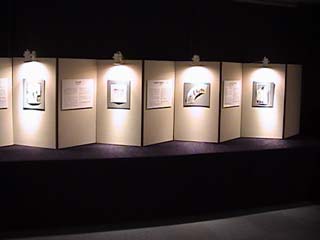 ... which shows off the 'relief' to best advantage. There are no frames, no glass, nothing between the viewer and the beautiful paper ...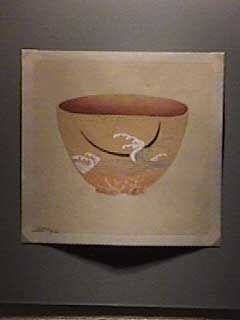 Turning around, the viewer sees mounted on the far wall, all the prints from the previous four albums, arranged in rows showing the sets as they were made ...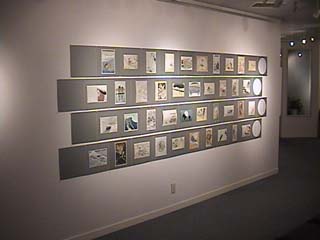 Looking down towards the far end of the long room, you can see the easels containing the 'David's Choice' prints.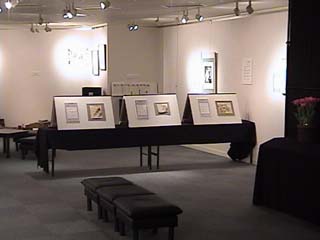 This is a selection of eight prints from my personal collection. They are not for sale, but are here to try and show people some of the amazing beauty that exists in this world of woodblock printmaking.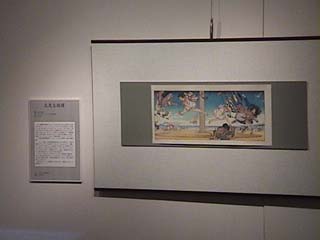 As always, each print (or book) is mounted together with a short piece explaining some of my thoughts about the item ...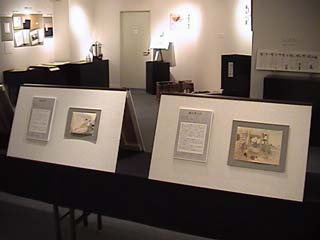 And again, no frames, no glass ... just 'raw' woodblock prints ...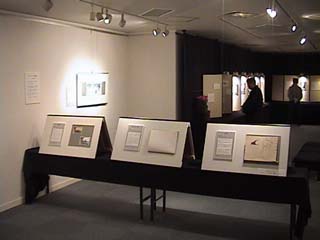 Back on the other wall is a selection of recent newspaper and magazine stories on my work.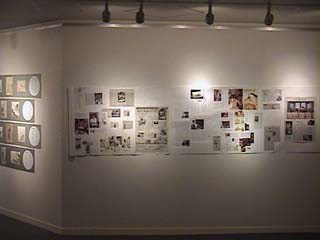 Last year the Japanese edition of the Yomiuri Shimbun gave me a full page report just before the exhibition; this year their English edition did the same - in colour!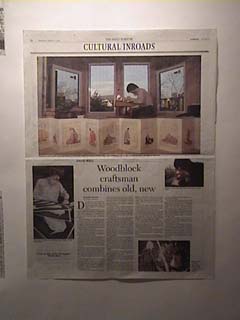 And they included a huge beautiful photo taken in my new workroom ...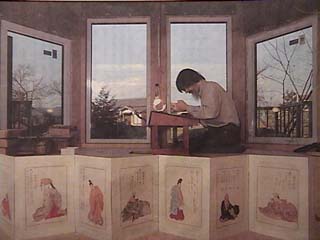 Down at the end of the room ... one corner has a display of the Hyakunin Isshu prints ...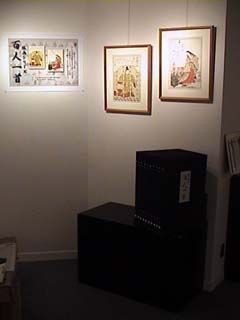 Along with a new poster we made (Thanks to Adobe for finally making an affordable version of Photoshop available!) ...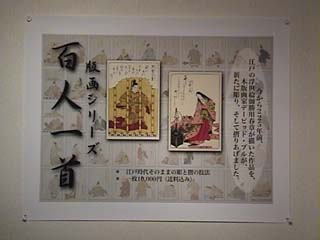 Next to this is my printing bench, for doing demonstrations ...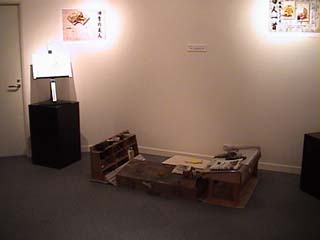 ... and next to that is the display stand announcing the new print series starting up this coming spring ...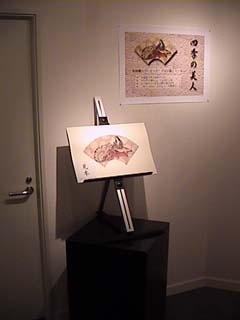 ... along with its poster ...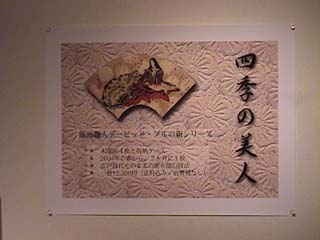 In the final corner (this room has a lot of corners!) is the 'sales' table, where my subscription system is explained.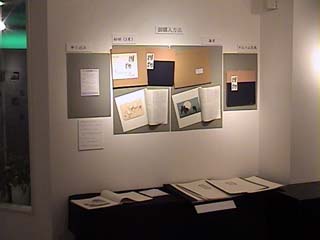 And from there we can look back up the room towards the entrance ...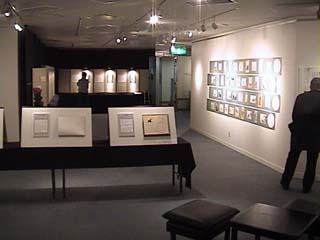 Thank you for taking this 'virtual' tour of the exhibition. I wish you could come and see it for 'real'!