Who am I?
Can I talk a little bit about my work today? As some of you may know, I am a 'printmaker', and that word easily explains in English what I do, but how about in Japanese? What am I?
At my exhibitions, I am commonly called 'sensei'. Back when I was an English teacher, I didn't allow my students to use this word, insisting instead that they call me 'David', and I still refuse to accept this term. It is not me.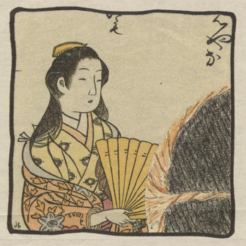 If we look in the dictionary for help, we find the Japanese term 'hanga-ka'. But it describes a person who first creates an image in his mind, transfers it to wood, and then carves and prints it. He is an artist ... and a craftsman. This is not me. I am not an artist. I simply make copies of Edo-era prints.
Well, what about the term 'hori-shi'? This is a man who takes a design given to him by someone else, and carves a set of woodblocks to match it. Now this is me ... but actually I do more ...
We also have 'suri-shi', the man who does the printing from those carved woodblocks. In Japan, the 'suri-shi' never carves, and the 'hori-shi' never prints. But I do both ...
How about 'hanga shokunin' then? This gives the feeling of a manual worker in the field of printmaking, which I think fits my activities pretty well, but I hesitate to use the term 'shokunin' for myself ... just yet. I have a great respect for most of the shokunin I have met, and hesitate to try and label myself as their equal ...
Help! Who am I? What am I?