Upstairs Secrets ...
I'd like to tell you a little secret today. Actually, it's not such a little secret ...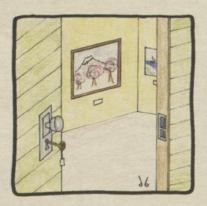 Among the collectors of my Hyaku-nin Isshu woodblock prints is the president of a local company. It's not a particularly large company, and he's not a very rich man, but for some years now he has been collecting nihonga, Japanese paintings.
I think he must have spent quite a lot of money on his collection, because it includes works by such well-known artists as Kawai Gyokudo, Matsushita Kikuo, and Tabuchi Toshio. He seems to enjoy the paintings very much, and sometimes when I visit him, he takes pleasure in showing me his latest acquisition.
And this is where the secret comes in, because to show me these paintings, he takes me upstairs to the second floor of his business offices, to his private museum/gallery. It's a real museum, with soft lighting, carpets, comfortable chairs, and hanging neatly on the walls, selections from his large collection. It's not open to the public, and only a few close friends of his even know it exists.
People visiting the company offices on business have no idea at all that hidden just a couple of metres above their heads, is a secret world of misty mountains ... pine trees in the snow ... and cherry trees blossoming near Mt. Fuji ... But XX-san certainly does, and as he sits at his desk, do you think he really concentrates well on his office work?