'Buried' Treasure
I was talking the other day with one of the older woodblock craftsmen, and he told me that when he started in this craft as a young apprentice back before the war, there were about 250 men working as woodblock carvers in Tokyo. Now, 60 years later, there are only about 10 left.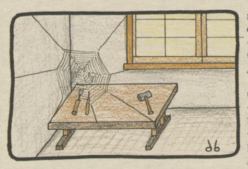 We discussed many aspects of this for a while, but later, when I was thinking over our conversation, one point kept coming back into my mind: Whatever happened to all the tools those men had used?
Back in the 'good old days', when a craftsman retired, his tools and workbench would presumably have been passed on to younger workers in the field, but in more recent years, with no new apprentices around to take on the work, such tools are no longer needed, and must just have gone into storage.
Carving knives and chisels made from beautiful steel, strong workbenches made from keyaki wood ... there must be many collections of such wonderful tools 'hidden' in the attics and storerooms of Shitamachi. For someone like me, who had no 'oyakatta' from whom to receive tools, and who is using mostly modern cheaply-made equipment, the thought of those attic treasures is enticing ... and frustrating ...
Wouldn't it be better that those old tools be brought down from their dusty resting places and restored to useful life? Wouldn't the old craftsmen think that was a better fate for them? But how, how can I find them? By now they must be scattered among the children and grand-children of those old craftsmen, people who probably don't even know what treasures they have ...
... you?