To Sleep, Perchance to Dream
I was speaking with an acquaintance a while ago, a lady in Osaka who works in one of the galleries where I have my exhibitions every January, and while we were chatting, there was a small earthquake. Of course, our conversation immediately turned to that topic, and she told me of an experience she had during the great Hanshin Earthquake earlier this year.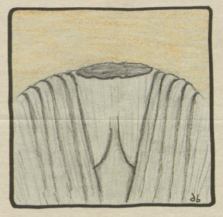 She collects various art objects, and among the items that she has acquired over the years is a Chinese ceramic statue. It dates back about 600 years or so, and was excavated from the grave of some important person. It has been standing in her home for some years now, but during that large earthquake it fell over, and the head broke off. 600 years! To sleep peacefully in the earth for six hundred years ... only to be finally smashed to pieces ...
What do you think about this? If we had left it alone, and let it sleep ... it would now still be in one piece. But of course, in that case, we would never know it had existed. Is it better to dig these things up, study their history, learn what we can about them, and then display them (in the process probably destroying them), or to leave them alone, unstudied ... but unspoiled ...? Which is better?
There is no easy answer to this question. But when I heard her story, I couldn't help thinking about the men who made that statue. I know how they would answer. Do you think they intended their creation to be 'decoration' in somebody's living room? Perhaps we should have considered their feelings.
But it's too late now ...