Snack Attack!
A couple of months ago I held an exhibition of my woodblock prints. I do this each year, booking a gallery for a week long show, and during the course of this most recent event, quite a large number of guests came to see the work. Most of them were strangers to me, people who had seen a newspaper story or a TV newscast, and who were interested in seeing what I was doing.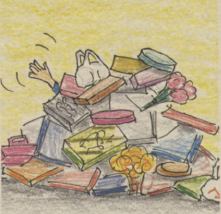 But quite a number of them were friends or acquaintances, and in accordance with Japanese custom, most of these people brought a small gift with them when they came.
Of course I was happy to see them, and happy to receive their gifts (although I would have been just as happy if they had come empty-handed!), but all this gift-giving did have a down-side. Every evening as I made my way home on the train, I was laden with packages: small cakes, fruit, cookies, chocolates, or other edibles. Day by day, the pile at home grew and grew. My children and I ate as much as we could (which was quite a lot!), and I also passed boxes out to many of our neighbours (who await exhibition time each year quite eagerly!), but still the pile grew!
At last, the exhibition came to an end, and then slowly but surely, the mountain started to subside. For weeks afterward I pleaded with visitors, "Have another cake. Help yourself to more cookies ... please!" It's a good thing that I have to run around so busily during this busy part of the year, as I'm sure I'd gain a few kilograms if I didn't!
Please don't think that I have any bad feelings towards my exhibition guests because of this. But I do wish they would realize that it's them I want to see, not their cookies!