Lazy? or Laser?
I had an interesting visitor at one of the exhibitions of my woodblock prints recently. He was very much a 'busy business-man' type, certainly not the most common sort of person to come and see my work. But he took his time looking around the gallery carefully, and them came up and introduced himself, offering me his card.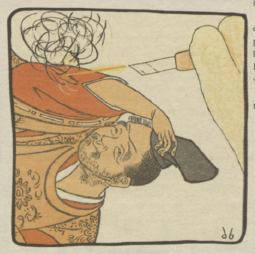 It turned out that his company was involved with lasers, and he thought that I might be interested in their products. Lasers? What possible use could lasers be in my work - carving and printing woodblocks in a two-hundred year old traditional style? Well, if you have seen some of those new desk accessories - the ones carved by lasers - then perhaps you can guess.
He suggested to me that I could save quite a lot of time if I used a laser to carve my woodblocks automatically. I could scan the design into a computer, place the woodblock in position in the machine, and then stand back while the laser did all the work for me. I could then use the carved block to do the printing ...
When he spoke he used words like speed and efficiency ... and I think he even used that horrible phrase 'time is money' ... I listened politely to what he said, and then of course I turned down his offer. But I don't think he understood my explanation of why his machine was of no interest to me ...
If you like doing something, isn't it better if it takes a long time?