Himitsu ...
Each time I have an exhibition of my 'Hyaku-nin Isshu' woodblock prints, various people compliment me on 'my' beautiful calligraphy. Now, the calligraphy on the prints is beautiful indeed, but these people have misunderstood: it is not my writing, but that of a long-dead Edo artist. I simply use my 'chokokuto' to carve the original lettering onto new woodblocks, from which I then make prints.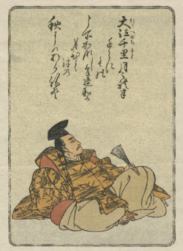 In actual fact, I am hopelessly useless at Japanese calligraphy. Although I work with it every day, and love it very much, I have absolutely no skill with a 'fude', the oriental writing brush. My writing tools are the carving knife ... and my word processor.
I explain this to those guests, but they are still amazed that a person who can't write, can still create such beautiful writing. So sometimes, if I am in a good mood, I let them in on my little secret ...
Those of you who have made simple wood block prints back in school will probably remember that woodblocks for printing must be carved 'backwards' - in mirror image, in order for the finished print to appear in the correct orientation; and this means that the writing I am carving is all 'reversed'. And my secret? I am left-handed! Although it is thus nearly impossible for me to use a normal 'fude' correctly, once the lettering is reversed onto my woodblock surface, I now have the advantage over right-handed people. Following the correct stroke order, and flowing around the curves smoothly, my knife traces the beautiful lines of the lettering in perfect harmony with the brush strokes of the original.
At last, after years of struggling with right-handed scissors, door knobs, trouser zippers, etc., I've found the perfect work for a left-hander! But remember, this is all ... hi ... mi ... tsu!