New Year's Greetings!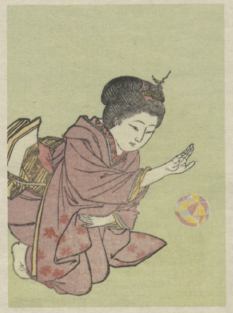 Happy New Year everybody! I hope you had a pleasant Xmas season, and then a quiet New Year holiday. I can't send my 'nengajo' to each of you personally, but if we print it here in the Weekly, is that OK?
Some years I create my own design for a New Year's card, but this time I used a small black and white drawing by a little-known artist from the Meiji-era, Kobayashi Eitaku. I hope he doesn't mind that I 'borrowed' it!
I use the process of making my nengajo as a kind of training chance, each year trying something a little bit different. This year I wanted to focus on quite delicate carving, so I obtained a piece of boxwood, and used that instead of the mountain cherry I normally use. I found that the tip of my knife broke many times during the carving. Boxwood is a very hard type of wood, and now I understand why modern carvers don't like using it! I'm happy with the results though, and it was good experience for me.
I hope you have a happy, peaceful, and productive 1996.