David's Autumn
The other day my friend Sadako-san was telling me about some of the various Japanese phrases that are used to describe this autumn season: 'shokuyoku no aki', 'dokusho no aki', and of course 'bunka no aki'. Good food ... good books ... and good printmaking!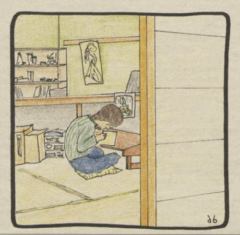 For most of my life before I came to Japan, the onset of autumn was not a joyful time. In Canada, where I grew up, autumn is the beginning of the school year, and after such a long summer vacation (usually about 10 weeks), nobody was in the mood for school. Even after I left school and started working, fall was our company's busiest season. There was never any time for relaxing, and it was 'overtime' every day. And to top it all off, for those of us living in Vancouver, autumn meant that soon the long, dreary and rainy winter would be upon us. 'Aki' just wasn't my favourite season ...
But here in Japan! After that incredible summer we have just been through, the cool breezes have blown away the stickiness, and everybody is fresh and ready to get back to their activities. It is the perfect season for ... for eating, reading, and printmaking! And I'm busy with all three. I've got a new cookbook, with hundreds of new recipes waiting to be tried out, I've got a stack of about 50 unread books just waiting for me to dive in, and of course, I've got my daily printmaking work.
This is my season! David's Autumn!